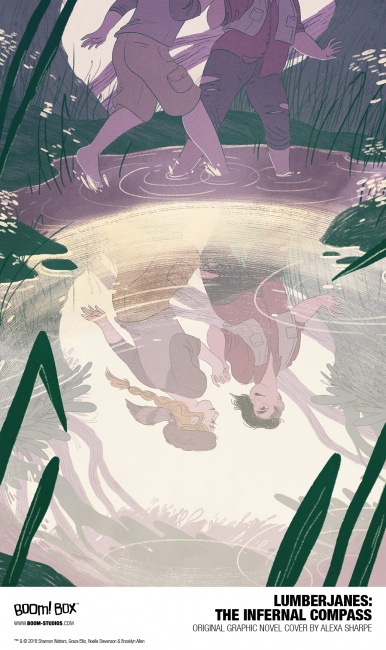 BOOM! Studios has announced the first original graphic novel in its best-selling series
Lumberjanes
will arrive in October.
Lumberjanes: The Infernal Compass
will be written by Lilah Sturges (
Jack of Fables, Justice Society of America
), with art by polterink (Claudia Rinofner).
The Lumberjanes crew are sent on an orienteering outing, and Mal and Molly become separated from Ripley, April and Jo, thanks to a malfunctioning compass. Molly is preoccupied with how her relationship with Mal is affecting the other girls, which gives a lonely female explorer a chance to try to steal the compass… with the help of her prim and proper automaton butlers. Alexa Sharpe will provide the cover.
According to BOOM! Studios, Lumberjanes has sold over a million copies worldwide. The series won two Eisner Awards in 2015, for Best New Series, and Best Publication for Teens (see "'Lumberjanes,' 'Saga,' 'Little Nemo' Feted at 2015 Eisner Awards"), a Harvey Award for Best Original Graphic Publication for Younger Readers (see "2015 Harvey Award Winners") and was named to the Yong Adult Library Services Association Top 10 Graphic Novels for Teens list (see "YALSA Top Ten Graphic Novels For Teens"). The characters have done a crossover with DC Comics (see "'Lumberjanes' to Cross Over with 'Gotham Academy'") and Twentieth Century Fox Film is working on a film adaptation (see "Emily Carmichael to Direct 'Lumberjanes'").