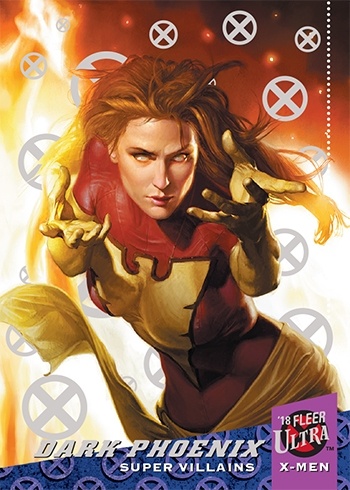 Upper Deck has shared information on the
2018 Fleer Ultra X-Men Trading Card Set,
which will celebrate the history of the Marvel heroes in both comics and trading card sets from the 1990s and then update them for the modern era. Release is planned for June.
The base set will include 150 cards, covering the team, its enemies and characters that touched X-Men lives through various crossovers and events. The characters will appear in Parallel sets (Silver Foil, Gold Foil, Artist Auto Red Foil, and Red Canvas Foil). Insert sets will include "Dead and Gone," "Greatest Battles," "Deadpool Around the World," "Precious Metal Gems," and "Metal Blasters." With the Stax! Cards, collectors can stack three different cards on top of each other to make a single memorable image. There are also Comic Cut Panels cards, which will include single or dual panels from popular comics like the first appearance of the Brotherhood of Evil Mutants from
X-Men
#4 and Jean Grey becoming Phoenix in
X-Men
#101. Plus the usual assortment of sketch cards.
See sample cards in the Gallery below!