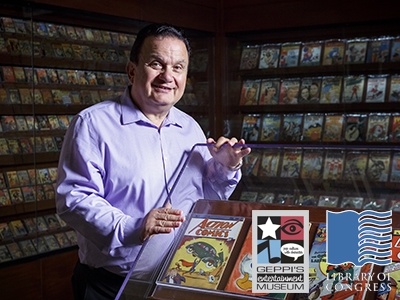 Diamond Comic Distributors President and Chief Executive Officer Stephen A. Geppi has donated more than 3,000 items from his personal comic book and pop culture collection to The Library of Congress, and will close Geppi's Entertainment Museum (GEM) in Baltimore.
The multi-million dollar gift includes comic books, photos, original comic book and comic strip art, newspapers, photos, buttons, Big Little Books, Beatles memorabilia, flicker rings, movie posters, and original storyboards from 1928's
Plane Crazy
animated film, which document the creation of Mickey Mouse. The items have been on display for more than a decade at the GEM, which was opened in 2006 (see "
Geppi Plans Comic Book Museum
"). Prior to the museum, a portion of the collection was on display at the Diamond International Galleries at Diamond Comic Distributors headquarters in Timonium, Maryland.
The Library holds more than 140,000 issues of approximately 13,000 comic book titles, dating back to the 1930s. The collection includes the first comic book sold on newsstands, the first comics featuring Batman, the first appearance of Wonder Woman,
Amazing Fantasy
#15, the origin and first appearance of Spider-Man. The Library stated that the Geppi Collection enriches this strong foundation and fills gaps in specific issues. Select items will be on display beginning iin the summer.
The last day GEM will be open to the public will be Sunday, June 3. Below is a promotional video, hosted by Geppi, published in 2010 that showcases the museum.