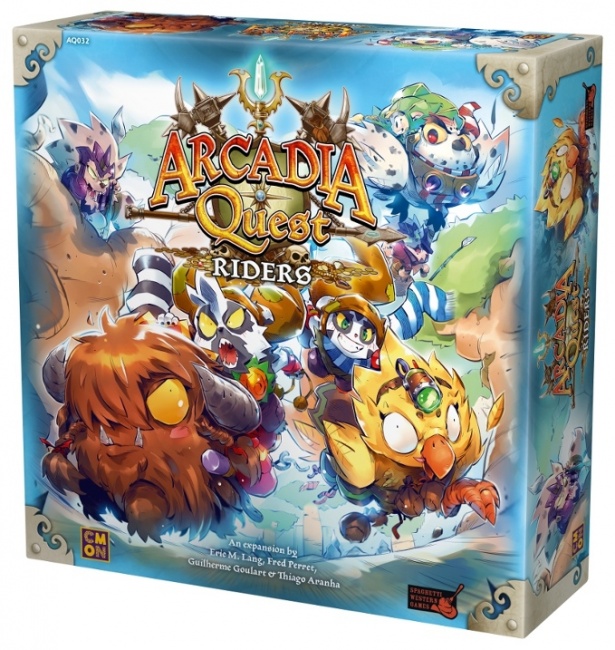 CMON has updated release info for four games on its summer and fall release schedule, and added a Game Night Kit for
Arcadia Quest: Riders
.
Arcadia Quest: Riders
is an expansion for the miniatures-based board game
Arcadia Quest
releasing on July 27 (see "
CMON Mounts Up for New 'Arcadia Quest' Expansion
"). The expansion includes new heroes and villains, new campaign quests, and six Mount figures big enough for heroes to ride. MSRP is $64.99.
To welcome the new game in style, CMON is offering a
Game Night Kit
which includes exclusive mounts (a buffalo and a tiger), as well as pearlescent dice (black for attack, white for defense). The kit includes a promotional poster, a sticker, a welcome letter, 18 pearlescent black attack dice, 18 pearlescent white defense dice, 3 buffalo mounts and 3 tiger mounts.
Reiner Knizia's
Blue Moon City,
originally released in the U.S. by Fantasy Flight Games, makes a new appearance from CMON. In the game, which is set in the same world as Knizia's
Blue Moon
card game (see "
Fantasy Flight's 2006 Board Game Schedule
"), players are trying to restore the buildings of the ancient capital in hopes of becoming the next leader. The game includes 4 miniatures, 40 player markers, 1 obelisk, 54 tokens, 21 tiles, 80 cards, and a rulebook. The game is for 2 – 4 players, ages 14 and up, and plays in 30 -50 minutes. MSRP is $39.99. Release is planned for October 26.
Narcos: The Board Game,
based on the Netflix story about the rise of drug lords and the international drug business, was announced in May (see "
Netflix Series 'Narcos' Adapted as Board Game
"). The box includes a game board, 1 hiding pad, 1 action board, 1 patrón dashboard, 19 miniatures, 7 counter-bases, 71 cards, 15 coca cubes, 15 hideout markers, 75 tokens, and a rulebook. MSRP is $54.99. Release is planned for October 26.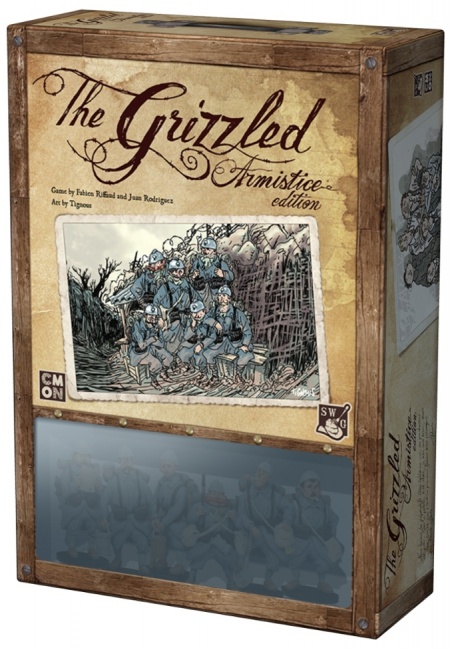 The Grizzled Armistice Edition
was announced last year when CMON acquired the rights to the critically lauded WWI card game (see "
CMON Acquires 'The Grizzled'
"). The new edition has players facing the trials and tribulations of WWI, working cooperatively from Boot Camp through nine Missions, with each action affecting everything that happens next. This edition includes miniatures, recruit cards to help the players, and an ability to save the game between chapters. MSRP is $49.99. Release is planned for November 23.
Victorian Masterminds
was announced late last year (see "
Antoine Bauza and Eric M. Lang's 'Victorian Masterminds'
"). Players are evil masterminds building doomsday devices to take over the world in the absence of Sherlock Holmes. MSRP is $49.99 and release is set for November 23.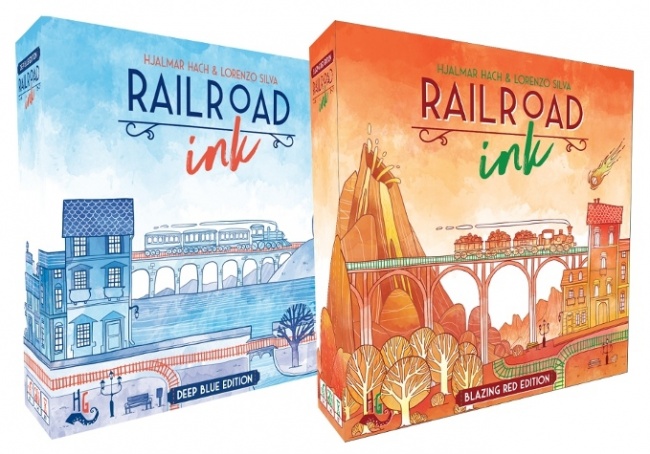 Railroad Ink
is a railroad empire building game where players must roll Route dice and draw the subsequent results on their individual Route boards. The longer the interconnected Routes, the more points the player scores. There are two editions,
Deep Blue Edition
includes Lake and River dice to add waterways to the maps.
Blazing Red Edition
has meteors and volcanoes providing a challenge to spreading Routes in a straight line. Each game is for 1 -6 players, ages 8 and up, and plays in 30 minutes. Both editions can be combined for a 12-player game. Release is planned for November 23. MSRP was not announced.
CMON already has announced several releases for summer (see "
'Gizmos,' 'Sugar Blast,' and More 'Zombicide: Green Horde' Expansions
"); plus more miniatures for the popular
A Song of Ice & Fire: The Miniatures Game
(see "
Free Folk, Giants Invade 'A Song of Ice & Fire'
").