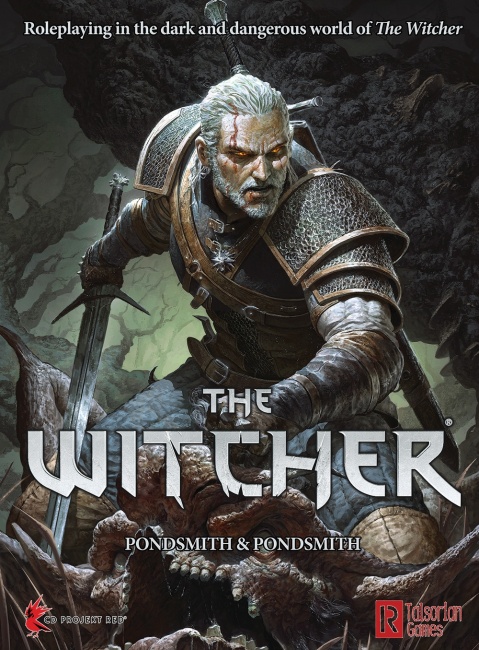 R. Talsorian Games, Inc. and CDPR will preview the
The Witcher Role Playing Game
at Gen Con with trade release to follow in late August.
Based on the popular Witcher video games from CD Projekt Red and the novels of Andrzej Sapkowski, the role playing game thrusts players into the dark Eastern European fantasy world and allows them to adventure through a complex environment where good and evil are hidden among many shades of grey. There are 9 character classes for players to choose from, each with a Skill Tree for specialized advancement. The book includes a Dungeon Master section, and a bestiary of monsters from Witcher novels and games that players can face. The magic system for the world includes rules that incorporate the chaotic and often dangerous consequences of using Spells and invocations. The game system uses an adapted version of the Cyberpunk 2020 rules system, which includes deadly critical wounds. The 360-page hardcover has an MSRP of $50.00.
See multiple teaser images in the gallery below!
R. Talsorian and CDPR are currently working with various licensees to translate the game into German, Spanish, French, Portuguese, Polish and Chinese.
The timing of the RPG couldn't be better. Netflix is working on an eight-episode TV series, being executive produced and showrun by Lauren Schmidt Hissrich, which will debut in either 2019 or 2020. Dark Horse Comics has released an art book and compendium based on the enduring video game franchise, and expand the license this year to include figures and barware (see "Upcoming 'Game of Thrones,' 'The Witcher,' and 'American Gods' Home Products"). Fantasy Flight Games released The Witcher Adventure Game in 2014 (see "'The Witcher Adventure Game').