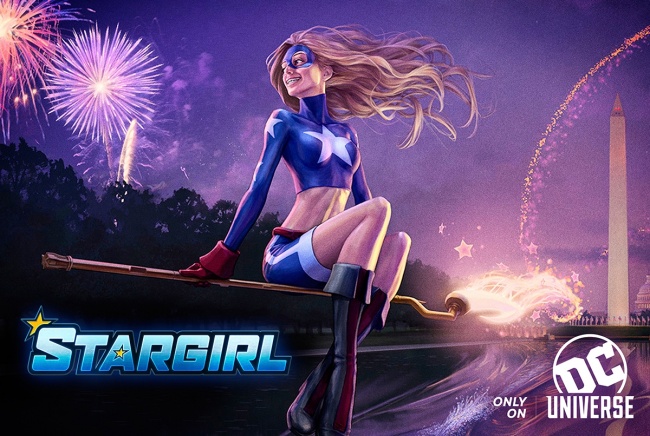 San Diego Comic-Con News: Former DC President Geoff Johns is hitting the ground running with his new producing and writing career, announcing that he is working on a Stargirl series for DC's over-the-top streaming service. Johns will write and executive produce the series for DC Universe, with producer extraordinaire Greg Berlanti and Sarah Schechter also on board to executive produce.
Stargirl will be about high school sophomore Courtney Whitmore, who inspires an unlikely group of heroes. The series will reimagine the character and the very first superhero team, the Justice Society of America. It will premiere on DC Universe in 2019.
Stargirl is the sixth original series announced for DC Universe, which just revealed its subscription rates (see "DC Universe Subscription Service Reveals Rates"). The first of those series, Titans, dropped a trailer today (see "DC Universe 'Titans' Trailer"). The other live-action DC Universe series include Doom Patrol (see "DC Universe Goes on 'Doom Patrol'"), Swamp Thing (see "Live Action 'Swamp Thing' Planned for DC Digital Platform"), and Young Justice: Outsiders (see "Live-Action 'Titans' Will Air on DC Digital Service"). An original animated series, Harley Quinn (see "Harley Quinn Gets Animated"), is also part of the lineup.
Johns also revealed artwork and updates for two upcoming comics projects. The first issue of the Shazam! series, which will be illustrated by Dale Eaglesham (Green Lantern), will head to stores on November 21. Batman: Three Jokers with artist Jason Fabok (Batman Eternal) (see "Geoff Johns Out as DC President, CCO; Moves to Producing, Writing") will be published under DC's Black Label imprint (see "DC Launches Imprint for High Profile Stand-Alone Stories"). A release date is pending.
DC also announced a bunch of middle grade and young adult releases at SDCC today (see "DC Reveals Next Wave of Middle Grades and YA Graphic Novels").
Click on the Gallery for a look a Johns' new comics series.