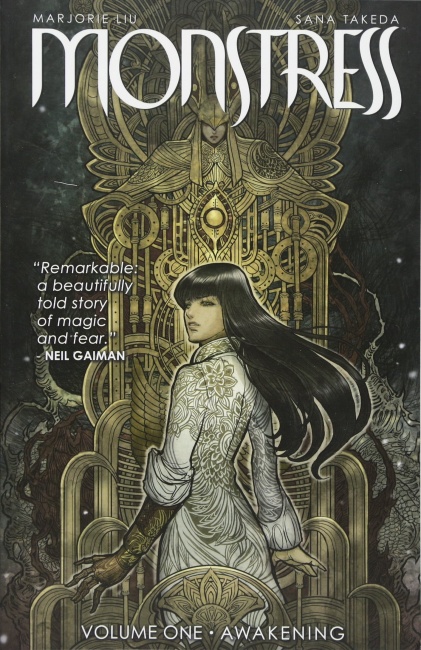 San Diego Comic-Con News:
Two trends that have been growing steadily during this new century, the strong steady growth in comics for young readers (see "
Comics and Graphic Novel Sales Down 6.5% in 2017
" for proof of the resilience of the kids comics market), and the increasing importance of female creators, were on full display at the 2018 Will Eisner Comic Industry Awards Ceremony that took place Friday night at the San Diego Comic-Con. Marjorie Liu and Sana Takeda's
Monstress
won "Best Publication for Teens" as well as the prestigious "Best Continuing Series," plus "Best Painter/Multimedia Artist" and "Best Cover Artist for Takeda, and "Best Writer" for Liu (shared with
Batman
and
Mister Miracle
scribe Tom King).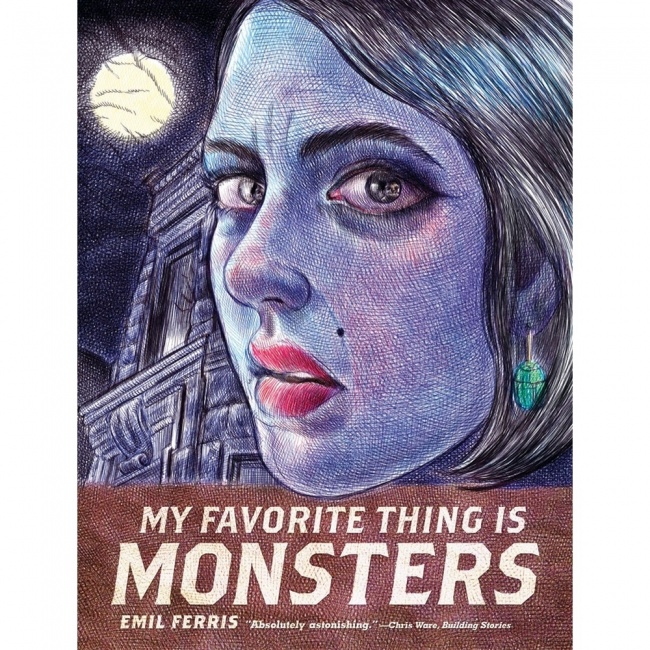 In addition another female creator Emil Ferris took home "Best Writer/Artist," "Best Graphic Album," and "Best Coloring for her masterful
My Favorite Thing Is Monsters
, while Katie O'Neill won "Best Publication for Kids (9-12)," "Best Webcomic" for her
The Tea Dragon Society
, Tillie Walden nabbed "Best Reality-Based Work" for her coming-of-age saga
Spinning
, and Taneka Scott was recognized for editing
Elements: Fire, A Comic Anthology By Creators of Color
, which was named "Best Anthology."
Some of the other key awards presented Friday include: "Best New Series, which went to Saladin Ahmed and Christian Ward " for Marvel's
Black Bolt
; "Best Limited Series," won byRoxanne Gay, Ta-Nehisi Coates, and Alitha E. Martinez for their work on
Black Panther: World of Wakanda
also for Marvel; "Best Penciller," which went to Mitch Gerads for his work on DC's
Mister Miracle
; and "Best Single Issue/One Shot," which went to Mike Mignola and Adam Hughes for
Hellboy: Krampusnacht
published by Dark Horse Comics.
Befitting the increasingly international nature of the comics industry, in addition to awards for international publications, the Argentinian artist Liniers won "Best Publication for Early Readers for his
Goodnight, Planet
," and the Will Eisner Spirit of Comic Retailer Award went to Norma Comics in Barcelona, Spain.
For a complete list of all the deserving publications that were nominated for the 2018 Eisner Awards see "
The 2018 Eisner Award Nominees
" -- Here is a complete list of the 2018 Eisner Award Winners:
Best Short Story
"A Life in Comics: The Graphic Adventures of Karen Green," by Nick Sousanis, in Columbia Magazine(Summer 2017)
Best Single Issue/One-Shot
Hellboy: Krampusnacht, by Mike Mignola and Adam Hughes (Dark Horse)
Best Continuing Series
Monstress, by Marjorie Liu and Sana Takeda (Image)
Best Limited Series
Black Panther: World of Wakanda, by Roxane Gay, Ta-Nehisi Coates, and Alitha E. Martinez (Marvel)
Best New Series
Black Bolt, by Saladin Ahmed and Christian Ward (Marvel)
Best Publication for Early Readers (up to age 8)
Good Night, Planet, by Liniers (Toon Books)
Best Publication for Kids (ages 9–12)
The Tea Dragon Society, by Katie O'Neill (Oni)
Best Publication for Teens (ages 13-17)
Monstress, by Marjorie Liu and Sana Takeda (Image)
Best Humor Publication
Baking with Kafka, by Tom Gauld (Drawn & Quarterly)
Best Anthology
Elements: Fire, A Comic Anthology by Creators of Color, edited by Taneka Stotts (Beyond Press)
Best Reality-Based Work
Spinning, by Tillie Walden (First Second)
Best Graphic Album—New
My Favorite Thing Is Monsters, by Emil Ferris (Fantagraphics)
Best Graphic Album—Reprint
Boundless, by Jillian Tamaki (Drawn & Quarterly)
Best Adaptation from Another Medium
Kindred, by Octavia Butler, adapted by Damian Duffy and John Jennings (Abrams ComicArts)
Best U.S. Edition of International Material
Run for It: Stories of Slaves Who Fought for the Freedom, by Marcelo D'Salete, translated by Andrea Rosenberg (Fantagraphics)
Best U.S. Edition of International Material—Asia
My Brother's Husband, vol. 1, by Gengoroh Tagame, translated by Anne Ishii (Pantheon)
Best Archival Collection/Project—Strips
Celebrating Snoopy, by Charles M. Schulz, edited by Alexis E. Fajardo and Dorothy O'Brien (Andrews McMeel)
Best Archival Collection/Project—Comic Books
Akira 35th Anniversary Edition, by Katsuhiro Otomo, edited by Haruko Hashimoto, Ajani Oloye, and Lauren Scanlan (Kodansha)
Best Writer
Tom King, Batman, Batman Annual No. 2, Batman/Elmer Fudd Special No. 1, Mister Miracle (DC)
Marjorie Liu, Monstress (Image)
Best Writer/Artist
Emil Ferris, My Favorite Thing Is Monsters (Fantagraphics)
Best Penciller/Inker or Penciller/Inker Team
Mitch Gerads, Mister Miracle (DC)
Best Painter/Multimedia Artist (interior art)
Sana Takeda, Monstress (Image)
Best Cover Artist
Sana Takeda, Monstress (Image)
Best Coloring
Emil Ferris, My Favorite Thing Is Monsters (Fantagraphics)
Best Lettering
Stan Sakai, Usagi Yojimbo, Groo: Slay of the Gods (Dark Horse)
Best Comics-Related Periodical/Journalism
The Comics Journal, edited by Dan Nadel, Timothy Hodler, and Tucker Stone, tcj.com (Fantagraphics)
Best Comics-Related Book
How to Read Nancy: The Elements of Comics in Three Easy Panels, by Paul Karasik and Mark Newgarden (Fantagraphics)
Best Academic/Scholarly Work
Latinx Superheroes in Mainstream Comics, by Frederick Luis Aldama (University of Arizona Press)
Best Publication Design
Akira 35th Anniversary Edition, designed by Phil Balsman, Akira Saito (Veia), NORMA Editorial, and MASH•ROOM (Kodansha)
Best Digital Comic
Harvey Kurtzman's Marley's Ghost, by Harvey Kurtzman, Josh O'Neill, Shannon Wheeler, and Gideon Kendall (comiXology Originals/Kitchen, Lind & Associates)
Best Webcomic
The Tea Dragon Society, by Katie O'Neill, teadragonsociety.com (Oni Press)
The Bill Finger Excellence in Comics Writing Award
Joye Murchison Kelly, Dorothy Woolfolk
The Bob Clampett Humanitarian Award
Frederick Joseph, Comics4Kids
The Will Eisner Spirit of Comics Retailer Award
Norma Comics, Barcelona, Spain
The Russ Manning Promising Newcomer Award
Hamish Steele, Pantheon (Nobrow)
Pablo Tunica, TMNT Universe (IDW)
Hall of Fame Carol Kalish, Jackie Ormes, Charles Addams, Karen Berger, Dave Gibbons, Rumiko Takahashi