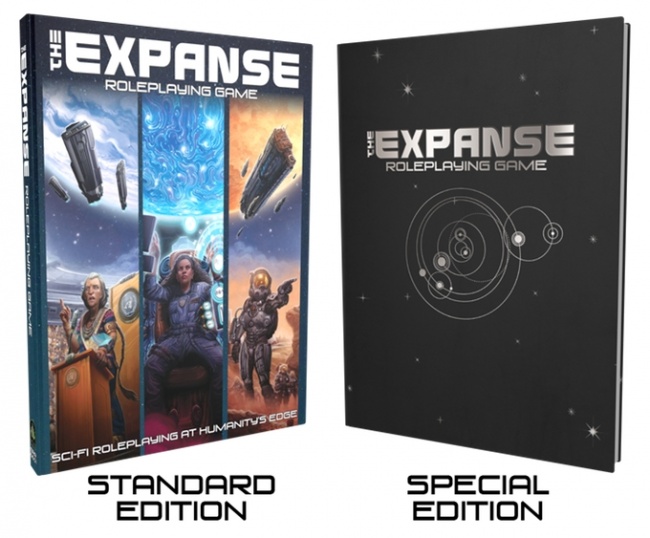 Green Ronin Publishing has revealed the cover for its upcoming role playing game adaptation of James S.A. Corey's sci-fi novel series
The Expanse.
The game is currently seeking funding on Kickstarter and has raised more than $75,000 in the first few hours.
Green Ronin announced the licensing agreement to produce the role playing game last year (see "
James S. A. Corey's 'The Expanse' Gets RPG Adaptation
"). In January, the company had hoped to have the game ready for Gen Con this year, but now the release has been bumped back to November (see "
'The Expanse RPG' Debuts at Gen Con
").
Green Ronin worked very closely with Ty Franck and Daniel Abraham (Who together, write as James S.A. Corey) developing the game.
The Expanse RPG
uses the Adventure Game Engine (AGE) used for
Modern AGE, Fantasy AGE,
and
Blue Rose.
While it is mostly based on the
Modern AGE
rules-set, it does have a few unique twists. Instead of Health, characters have a Fortune score, and there is a special system to model and create spaceships and deal with space combat.
The Expanse Game Master's Kit
includes a three-panel landscape format GM Screen, a set of game reference cards, and pre-generated characters for use with the game.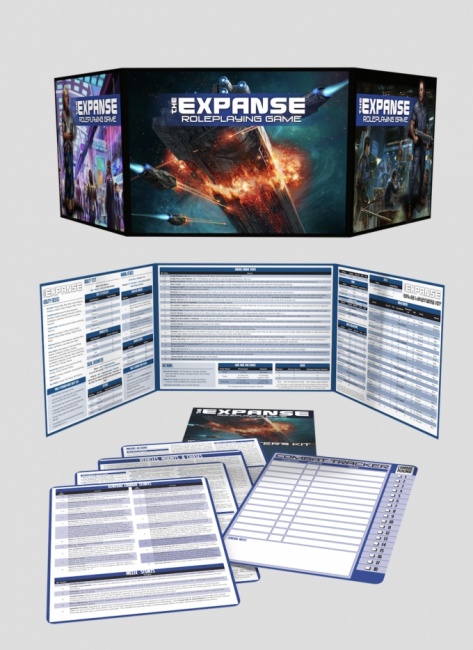 The 200+page full color hardcover core rulebook will have an MSRP of $49.95. The
Game Master Kit
will have an MSRP of $24.95. A
Special Edition Expanse RPG
is available exclusively to Kickstarter Backers. It includes a black leatherette cover and a ribbon bookmark. Trade release will follow on the heels of backer fulfillment, currently scheduled for November.
The Kickstarter easily met its $30,000 goal in the first hour, and has currently raised more than $75,000 from more than 1,000 backers, with 30 days to go. There are several ways retailers can participate in the Kickstarter, through two backer levels (Ice Hauler and Bulk Freighter), and through Green Ronin's Pre-Order Plus Program which lets customers pre-order games through local stores and receive the PDF version from Green Ronin for $5. Green Ronin will be charging shipping separate from the Kickstarter pledge.
Amazon Studios has picked up the TV adaptation of the franchise for a fourth season (see "
Will Amazon Embrace 'The Expanse'?
").