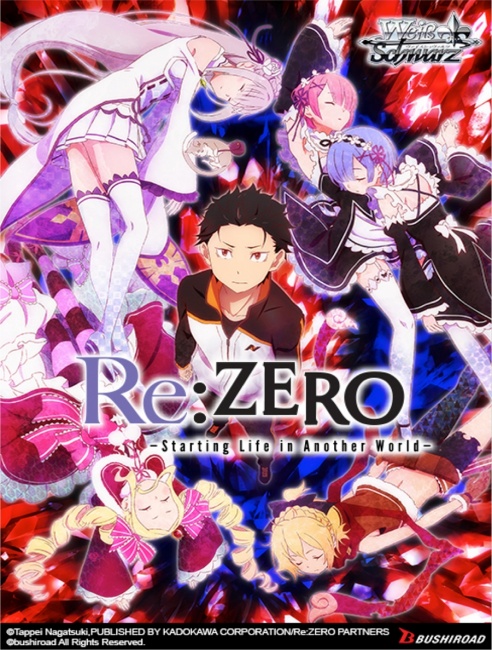 Bushiroad has released details of its upcoming
Re:ZERO – Starting Life in Another World
expansion for its
Weiss Schwarz
Trading Card Game
, releasing on December 21.
The Re:ZERO – Starting Life in Another World expansion brings the characters and action from the anime series of the same name into the Weiss Schwarz universe. Scenes from the show are represented in the game in card form, including Puck's rampage, battles against cultists, the White Whale Hunt, and the awakening of Rem. The cards can be used with any cards that have numbers beginning with RZ/.
Three of the main characters, Emilia, Ram, and Rem, are featured in the Re:ZERO – Starting Life in Another World Trial Deck. This 50-card pre-constructed deck includes 20 different card types (with 9 parallels). Each deck features two "shiny" cards, and some random decks will also have one of three different embossed rare cards or one of three different signature cards, featuring the signatures of voice talent Rie Takahashi (as Emilia) or Inori Minase (as Rem). Each deck will also include a rules sheet, playmat, and deck manual. Trial Decks will be packaged in six-deck displays.
Booster Packs will also be available, with cards designed to enhance those included in the Trial Deck. The complete expansion has 100 cards with 22 parallels, which will be packaged in random eight-card booster packs. Signature cards will be randomly inserted into some packs, featuring the voice actors Yusuke Kobayashi (Subaru), Rie Takahashi (Emilia), Chinatsu Akasaki (Felt), Inori Minase (Rem), Rie Murakawa (Ram), and Satomi Arai (Beatrice). Each 20-pack display will include one of five different PR cards, and each 16-display carton will feature four exclusive rubber playmats.
Re:ZERO – Starting Life in Another World will be the first of three Weiss Schwarz sets featuring popular anime properties announced earlier this year (see "'Weiss Schwarz' Adds New Anime Titles"). It will follow the late November release of a set based on the Konosuba anime series (see "'Konosuba' Season Two Joins 'Weiss Schwarz'").