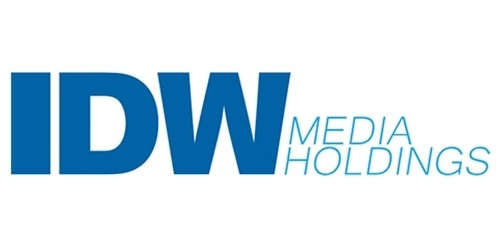 IDW Media Holding's publishing division posted another big loss in its fiscal third quarter ended July 31, helping to pull over-all results for the company negative in another down quarter. The publishing division showed a loss of $801,000 in the quarter, an improvement from the $1.1 million loss in the same quarter a year ago, according to the company's quarterly report. This continues a string of bad quarters for the division (see "
IDW Publishing Sales Continue Declines
").

The publishing division did post a sales increase, the first in some time, with sales growing $175,000 from $5.42 million a year ago to $5.60 million this year. Breaking down the publishing division's sales increase, games were up $166,000, while comic and graphic novel publishing was down $173,000, with changes in digital (down) and licensing (up) revenues due to timing issues making up the rest of the difference in sales. The decline in comics and graphic novel publishing continues to be attributed to "industry cyclical downward pressure driven by market leaders," along with "timing of significant major brand titles."

IDW Media Holdings showed a combined loss from all divisions of $461,000 for the quarter, down from a $143,000 profit in the year ago period. Revenues were also down, to $14.2 million from $16.7 million a year ago. The big sales decline was in IDW Entertainment, where sales were down $2.7 million vs. the year ago period due to timing issues, producing a $746,000 operating loss. Brochure distribution and advertising division CTM was the big winner, turning around to a $943,000 profit from recent weak quarters.

IDW's entertainment division is gearing up for production on a number of series, necessitating new bank financing for $23.5 million in production costs. IDW also took out a $5 million bridge loan from Chairman Howard Jonas in August to finance costs in anticipation of its other financing sources. The company is producing TV episodes at a record pace, delivering 6 of 12 Season 3 episodes of Wynonna Earp in the period; beginning production of V-Wars in July; beginning production of October Faction in September; producing a pilot for Brooklyn Animal Control; and planning to begin production on Locke & Key in February.

IDW has had a rocky run recently, with a series of negative quarters, a new CEO (see "TV Exec Replaces Adams as IDW CEO"), executive turnover in the publishing division (see "John Barber Named IDW's Editor-in-Chief") and news that civil rights attorney Lisa Bloom has an IDW executive as a client (see "High Profile Civil Rights Attorney Has Executive with IDW Claim as a Client").