In April, Marvel's Ten Realms are going to war against the Dark Elf Malekith, and the X-Men, Daredevil, and Punisher will be part of the fight in a series of side stories.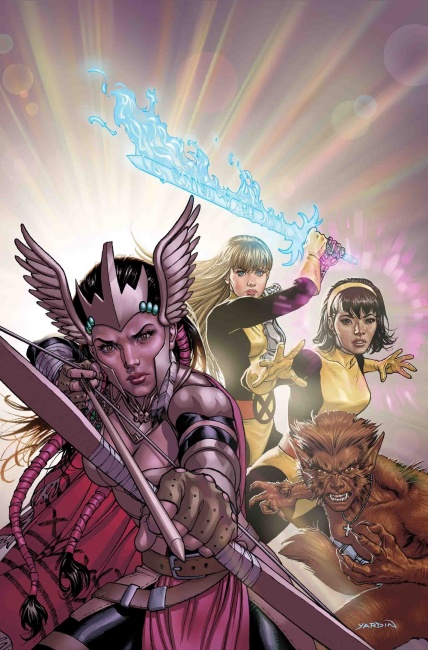 War of the Realms: Uncanny X-Men is a three-issue miniseries from Matthew Rosenberg and Pere Perez. Malekith's forces are invading Earth, and the X-Men are led into battle by Dani Moonstar. The first issue features a main cover by David Yardin and variants by Marko Djurdjevic, Whilce Portacio, and John Tyler Christopher. It's on sale April 24.
In War of the Realms: War Scrolls, Daredevil has been gifted the sight of the Bifrost, and he watches the Earth turned into Hell under Malekith's invasion. Jason Aaron, Chip Zdarsky, and Josh Trujillo write the three-issue miniseries, which features art by Andrea Sorrentino, Joe Quinones, and more. Alan Davis, Mark Farmer, and Matt Hollingsworth provide the main cover for the first issue, a 40-page April 10 release for an MSRP of $4.99. Sorrentino provides a variant cover for War Scrolls #1.
Gerry Duggan and Marcelo Ferreira will bring Frank Castle into the fray with the three-issue miniseries War of the Realms: Punisher. Malekith's monsters have invaded New York City, and Marvel's one-man army is there to fight them. The first issue is covered by Juan Ferreyra with variants by Djurdjevic and two TBA artists. It's on sale April 17.
Finally, the Ten Realms will get an epic art book in The Art of War of the Realms, a trade paperback written by Jess Harrold and featuring art from throughout the event. It includes behind-the-scenes art from Russell Dauterman and more, as well as commentary from Aaron. The 224-page tome is on sale May 1 for an MSRP of $34.99.
Marvel's mega War of the Realms event is a six-issue bimonthly crossover helmed by Aaron, Dauterman, and Matthew Wilson (see "Marvel Teases Mega Event 'War of the Realms'"). A trade paperback prelude from Aaron and Walter Simonson will be on sale in March (see "'Prelude' Recaps Plot Seeds for 'War of the Realms'"), and there will be tie-in covers and lead-in stories in Avengers #16-17, Asgardians of the Galaxy #7, and Thor #11 (see "Preview: 'War of the Realms' Variant Covers"). Thor's baby sister (?!) is also part of the action in the five-issue War of the Realms: Journey into Mystery miniseries from the McElroy family and artist Andre Lima Arujo (see "Thor's Baby Sister?! Joins 'War of the Realms'").
Click on the Gallery for cover images.