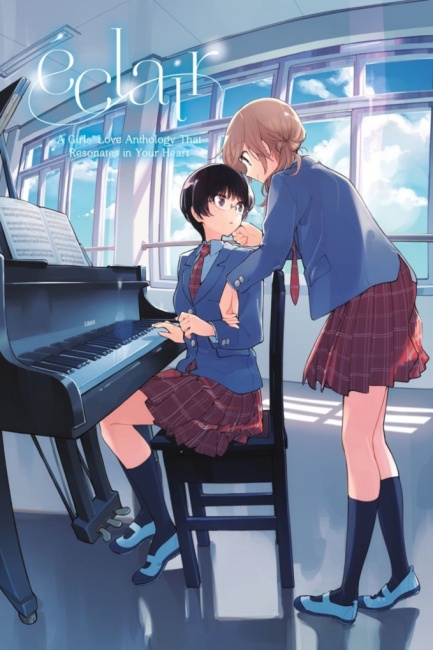 Yuri manga, stories about romantic relationships between women, are on the ascendant as the overall market for LGBTQ graphic novels has grown. Yuri is a small genre even in Japan, but like many other niches, it has a group of fiercely devoted fans.
While yaoi (boys love) manga are romances between two men that are created by women for women, yuri is more complicated. Almost all yuri manga are by women, and while many of the stories are aimed at a female audience, there is considerable variety.
Much of the yuri manga published in North America fits in the shojo category, that is, manga for teen girls. Series like
Kiss and White Lily for My Dearest Girl, Bloom Into You,
and
Sweet Blue Flowers
share some common tropes: They are set in private girls' schools with elaborate uniforms, and as in other shojo romances, the emphasis is on emotions such as attraction, jealousy, and uncertainty, with little explicit sexual content. There are plenty of other types of stories, though, including workplace romances and dark fantasy stories aimed at older women
.
And a number of yuri titles fit into the seinen (young men) demographic, including the comedy
Miss Kobayashi's Dragon Maid
and the cyberpunk comedy
Pandora in the Crimson Shell: Ghost Urn.
One of the top selling lesbian manga of recent years is not a love story:
My Lesbian Experience with Loneliness,
published in 2017, is a diary comic about the creator's struggles with depression, low self-esteem, and sexual difficulties. Ironically, the manga went viral and made her famous; but as she shows in the sequel,
My Solo Exchange Diary,
that didn't solve all her problems.
The vast majority of yuri sales, as is the case for most manga, occurs in the book channel. The top selling property in bookstores is
Miss Kobayashi's Dragon Maid.
The first volume of
My Solo Exchange Diary
was the top selling yuri manga in the direct market.
Here's a look at some current and upcoming yuri series.
Ongoing Series
Bloom Into You: Yuu, a high school girl who is unsure of how to deal with a boy she is not interested in, is inspired by the example of an older student who is an expert at rejecting confessions of love. They become friends, and eventually Yuu realizes she is romantically attracted to the older girl. (Seven Seas Entertainment)
Futaribeya: A Room for Two: Two boarding school roommates start out as strangers but their friendship soon blossoms, especially as they must share a bed. (Tokyopop)
Kase-San: A love story that begins in high school between a clumsy girl who loves flowers and a star athlete. Each volume has a different flower in the title. (Seven Seas Entertainment)
Kiss and White Lily for My Dearest Girl: An opposites-attract story about two high school students, one conscientious and hard-working, the other lazy but really smart. (Yen Press)
Miss Kobayashi's Dragon Maid: A comedy about an office worker whose maid is a fiercely devoted dragon girl. (Seven Seas Entertainment)
Murcielago: A former mass murderer goes to work for the Tokyo police as a hired assassin. (Yen Press)
Now Loading: Just launched in January, this is a workplace romance set at a game company. (Seven Seas Entertainment)
Pandora in the Crimson Shell: Ghost Urn: Cyborg girls team up to fight terrorists. (Seven Seas)
Yuri Is My Job!: A comedy about a high school student who works in a café where the waitresses pretend they are students at an all-girl boarding school. She's attracted to a colleague who treats her well in front of customers but loathes her in real life. (Kodansha Comics)
Upcoming Series
Whenever Our Eyes Meet: An anthology of yuri workplace romances, scheduled for a June release from Yen Press.
Cocoon Entwined: A schoolgirl story coming in July from Yen Press.
Our Wonderful Days: A high school romance set in the countryside, due out in November from Seven Seas Entertainment.
Killing Me!: This love story is a romance between a vampire and a vampire hunter, which leads to all sorts of possible complications; watch for it in July from Yen Press.
Yuri Life: A slice-of-life story about an illustrator and a web designer who live together. This too will debut in July from Yen Press.
Completed Series
After Hours: Ditched by her friend at a nightclub, a shy girl makes friends with a super-cool DJ. (3 volumes, VIZ Media)
Éclair: A one-shot anthology of short yuri romance stories. (Yen Press)
Hana & Hina After School: Two high school girls work in a character-goods shop and share a love of cute things. This manga is by Milk Morinaga, who is well known as a yuri manga creator in Japan. (Seven Seas Entertainment)
Sweet Blue Flowers: Childhood friends are reunited in high school, and as they revive their old friendship it slowly develops into something deeper. Creator Takako Shimura is also of the much-acclaimed Wandering Son, a story about transgender schoolchildren. (4 volumes, VIZ Media)
Click Gallery below for covers of some popular yuri series!