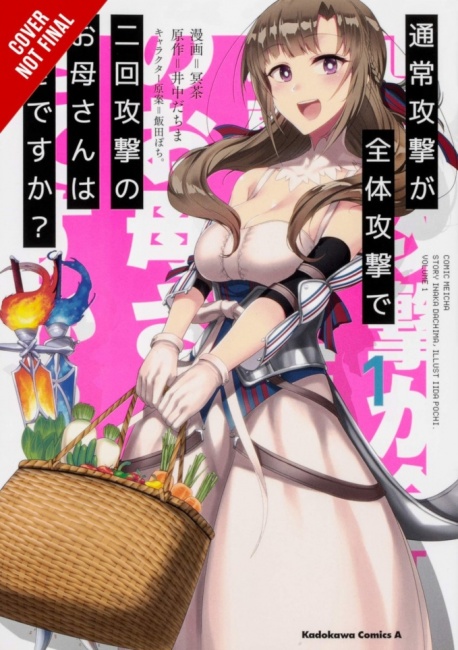 We round up recent manga announcements featuring Pokemon, polar bears, and a clingy classmate!
VIZ Media announced this week that it has licensed both the anime
Pokemon the Movie: The Power of Us
and the manga
Pokemon the Movie: The Power of Us—Zeraora.
The manga, which is scheduled for a summer release, provides the backstory of the movie, which features a motley crew who have assembled for a Wind Festival but must face a series of perils.
Yen Press made a round of manga announcements on Twitter recently, and they all fall into the fantasy and isekai (stories about a character transported to another world) genres. Here's a quick roundup of six new manga licenses:
Do You Love Your Mom and Her Two-Hit Multi-Target Attacks? is an adaptation of the light novel of the same title, a story about a gamer who is transported into a video game along with his mother, who turns out to be a pretty badass fighter. Yen Press already publishes the original novels, and a television anime series is in the works.
Overlord a la Carte is an anthology of short manga by different artists that is based on the world of Overlord, the novel/manga/anime series about a gamer who is trapped inside a Massively Multiplayer Online Role-Playing Game (MMPORG) that is shutting down, leaving him master of this world but unable to leave the game. Yen Press already publishes the novels and manga. This book is scheduled for an August 20, 2019, release.
Reborn as a Polar Bear: The Legend of How I Became a Forest Guardian starts out just as the title says: A mountain climber falls to his death and is reincarnated as a polar bear who lives in a forest and is the protector of two werewolf sisters.
Phantom Tales of the Night is a horror-fantasy manga about an inn where humans (and others) can go to stay and soothe their souls—but when the bill comes due, they must reveal their deepest secrets.
The War Ends the World/Raises the World is a manga and light novel series about an imperial knight who falls in love with the princess of a magical kingdom that his empire has been at war with for many years.
Combatants Will Be Dispatched! is another manga and light novel series, this one about a Combatant for the Kisaragi Secret Society who is sent off, together with his android partner, to scout out and plan an invasion of an alien planet that turns out to be a fantasy world.
In December, Yen announced the acquisition of Konosuba: An Explosion on This Wonderful World!, a comedy spinoff of the series Konosuba: God's Blessing on this Wonderful World. In the original series, a teenager dies and is reincarnated in a fantasy world with lots of game elements. The new spinoff focuses on the magician Megumin, who loves explosions. The first volume will be out in June 2019.

Seven Seas Entertainment announced it has licensed a new series, Uzaki-chan Wants to Hang Out!, a slice-of-life rom-com about a laid-back high school student and a buxom and enthusiastic younger student who wants to hang out with him, driving him to distraction (or maybe love!). The first volume is due out on September 17, 2019, with an MSRP of $12.99.

Click Gallery below for covers of the new titles announced!