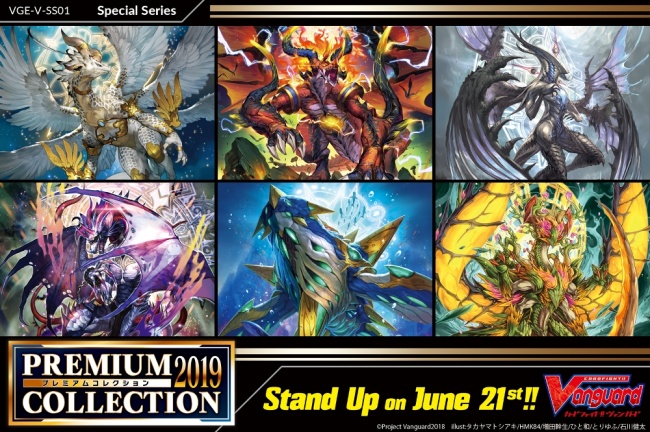 Bushiroad will release a special summer relea ushiroad will release a special summer release that will boost
CardFight!! Vanguard G
decks for Premium Standard format games se that will boost
CardFight!! Vanguard G
decks for Premium Standard format games on June 21.
CardFight!! Vanguard G Premium Collection 2019 packs contain evolved G Unit cards with new abilities for all clans (except Cray Elemental, Touken Ranbu, and Etranger) which can be used in the Premium Standard format. The set includes 54 types of cards (all new) including GR: 6 / RRR: 24 / RR: 24 + SGR: 6 [6 Parallel]. These cards will not be legal for use in Standard format games.
Each pack will include 3 cards. Each display will include 10 packs. Each carton contains 16 displays. Each display will contain 1 of 8 random PR cards.
See card art for 3 cards, and sneak peeks of the 8 PR cards in the gallery below!
This release will follow Cardfight!! Vanguard Extra Booster 6 – Light of Salvation, Logic of Destruction (see "New 'Cardfight!! Vanguard' Cards Arrive for Link Joker, Royal Paladin, Kagero, and Nova Grappler Clans").