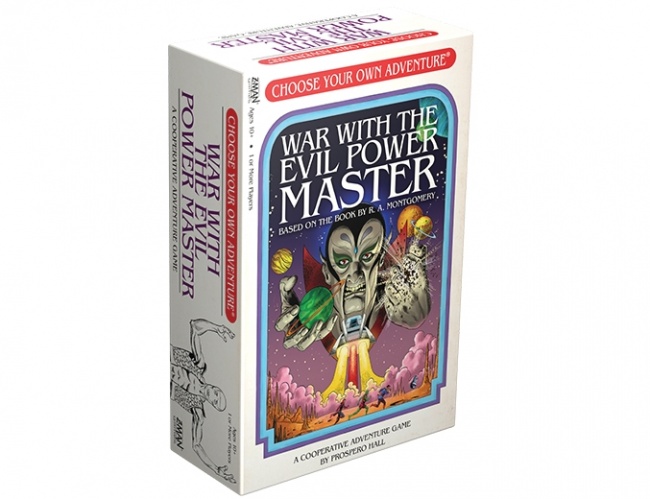 The second title in Z-Man Games' line of licensed
Choose Your Own Adventure
games will be
War with the Evil Power Master
, releasing this summer.
Like the first game in the series (see "Face the 'House of Danger' in 'Choose Your Own Adventure' Game"), War with the Evil Power Master is a cooperative game based on the book of the same name. In this tale, the players are members of the Rapid Force Crew charged with defending the peaceful Lacoonian System and thwart the Evil Power Master's evil plans. The players must utilize their characters' unique abilities to overcome the Evil Power Master's minions, locate where he is hiding, and face him down in a climactic battle.
War with the Evil Power Master
was designed by Prospero Hall, who also designed the
House of Danger
. The game comes with 325 cards, 1 game board, 1 die, 1 mover pawn, 2 tracking cubes, and 9 signal booster discs, featuring retro sci-fi style artwork. It is intended for 1 to 8 players, ages 10 and up, and takes about an hour to play. MSRP is $24.99.
This summer will also see the release of Z-Man's take on the minimalist card game Love Letter (see "'Love Letter' Gets a Facelift").