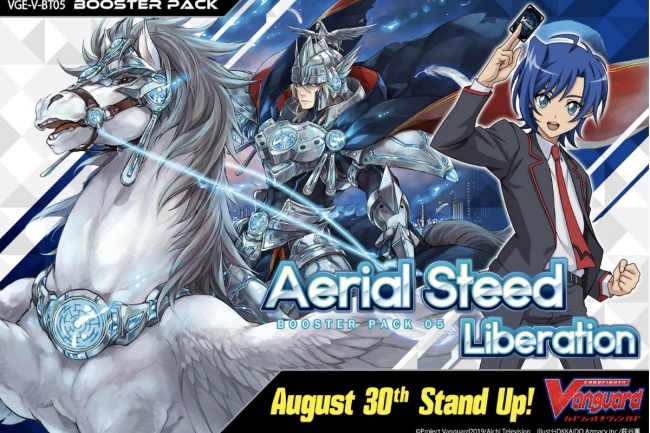 Bushiroad will release
Cardfight!! Vanguard Booster Pack Vol. 5 - Aerial Steed Liberation
on August 30.
Aerial Steed Liberation features cards from the Royal Paladin, Oracle Think Tank, Narukami, Nubatama, and Gold Paladin clans. The clans featured in the new booster are those used by the anime's main characters as part of the Miyaji Academy CardFight Club, whom were featured earlier this year in the Cardfight!! Vanguard Booster Pack Vol. 3 - Miyaji Academy CF Club (see "The 'Miyaji Academy CF Club' Is Coming For 'Cardfight!! Vanguard'").
The set will include 80 cards with various Parallels. Each pack contains 7 random cards, with 2 cards in every pack being a Rare or above. Rarity scheme was not announced at this time. Each display box will contain 16 packs and every display contains 1 VR card. Display boxes will also include 3 Gift Marks, with a random one-out-of-three unit illustration version. Each carton will contain 20 display boxes. As a pre-order bonus, each carton will include 2 bonus playmats (2 designs, 1 playmate of each design).
Retailers can hold prerelease events with the CardFight!! Vanguard Aerial Steed Liberation Sneak Preview Kit. Each Kit includes 39 packs, 2 premium rubber playmats, and 8+1 exclusive PR cards. The Kit supports up to 8 players, each getting 4 packs each, with the remaining 7 packs serving as a prize. Sneak Preview weekend will be August 23-25.
Aerial Steed Liberation will follow the early August release of My Glorious Justice (see "'Cardfight!! Vanguard' Heroes Seek 'My Glorious Justice'").