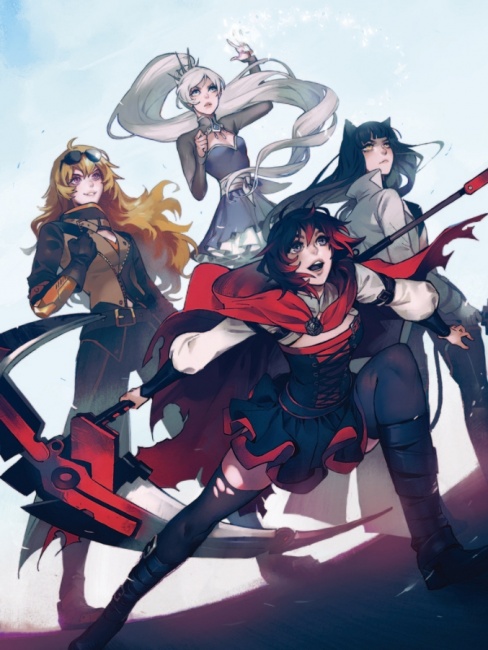 DC Comics and Rooster Teeth announced new details on the upcoming
RWBY
and
gen:LOCK
comic series, which will be digital-first series to be followed by monthly print comics. The two series were announced last year after the AT&T acquisitions of Time Warner (now WarnerMedia) and Otter Media made DC and Rooster Teeth sister companies (see "
'RWBY' Comics Coming in 2019
").
RWBY will launch digitally in late August with writer Marguerite Bennett (Batwoman) and artists Mirka Andolfo (DC Bombshells) and Arif Prianto (Deathstroke). RWBY is set in a world inhabited by monsters bent on death and destruction, where the only hope of stopping them rests with Huntsmen and Huntress. The series focuses on four Huntresses in training, Ruby Rose; Weiss Schnee; Blake Belladonna; and Yang Xiao Long.
gen:LOCK will launch digitally in September with co-writers Collin Kelly and Jackson Lanzing (Green Arrow, Nightwing) and artist Carlo Barbieri (Green Lanterns, Adventures of Super Sons). gen:LOCK tells the story of a team of young pilots who are recruited by Earth's last free society to control giant, weaponized robot bodies known as mecha.
The two digital series will alternate weekly, with two chapters every month, and will be collected as a monthly print series. Jim Lee (Batman: Hush) will create a special variant cover for both first print issues.
Earlier this year, Arcane Wonders announced new expansions releases for its RWBY: Combat Ready board game (see "Arcane Wonders Returns to Remnant in 'RWBY: Sub-Boss'"). Viz Media will release a RWBY companion book later this year, and (see "Pop Culture Phenomenon 'RWBY' Gets Official Companion Book").