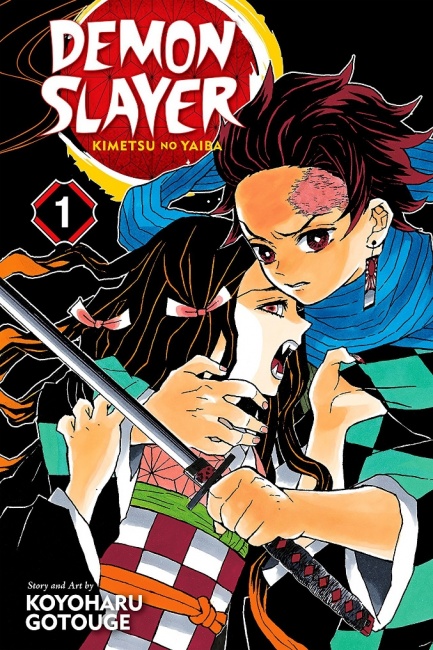 Sales of the
Demon Slayer (Kimetsu no Yaiba)
manga have been trending upward in recent months, and it's beginning to look like a phenomenon of the first order. With a top-selling performance in Japan and the anime on cable TV and streaming services in the U.S., the property appears to be ready to break into the top ranks of manga sales here.
Demon Slayer
first made the Top 20 Adult Graphic Novels BookScan chart in September (see "
September 2019 NPD BookScan – Top 20 Adult Graphic Novels
"), and in November, the first, second, and ninth volumes all made the top 20 manga chart (see "
November 2019 NPD BookScan – Top 20 Author, Manga, Superhero Graphic Novels
").
Kimetsu no Yaiba
is big in Japan:
Anime News Network
reported last month that
Demon Slayer
was the top selling manga there in 2019, breaking a 12-year streak for
One Piece
. The most recent volume had a first printing of 1 million, and there are over 25 million volumes in print right now, also according to
ANN
.
The manga is getting a push in the U.S. from the anime; the first season was released earlier this year and is available on Hulu, FUNimation, and Crunchyroll streaming platforms, and began running on Cartoon Network's Adult Swim block in October. Reception has been good: the anime won eight Newtype Anime Awards and made Crunchyroll's list of the top 25 anime of the 2010s.
At AnimeNYC, where
Demon Slayer
cosplayers were a noticeable presence, VIZ Media announced that they will start releasing a new volume every month so they can catch up with Japan (see "
AnimeNYC: Viz Announces New Junji Ito, Splatoon Manga
"), where 18 volumes have been released (vs. nine in the U.S.). Manga fans can read the first three chapters for free on the Shonen Jump app, which also carries the most recent chapters as they are published in Japan.
Demon Slayer
blends several popular tropes: Tanjiro, the main character, becomes a demon slayer to avenge his family, who were slain by demons, and save his sister, who was not killed but became a demon herself. So there's the journey to mastery, family drama, the tension between human and supernatural, and plenty of battles.
Creator Koyoharu Gotouge uses a clear, expressive style and makes judicious use of period details from the Taisho Era, when the story is set. The result is not only easy to read but also beautiful to look at.
Click Gallery below for some of the U.S. covers!