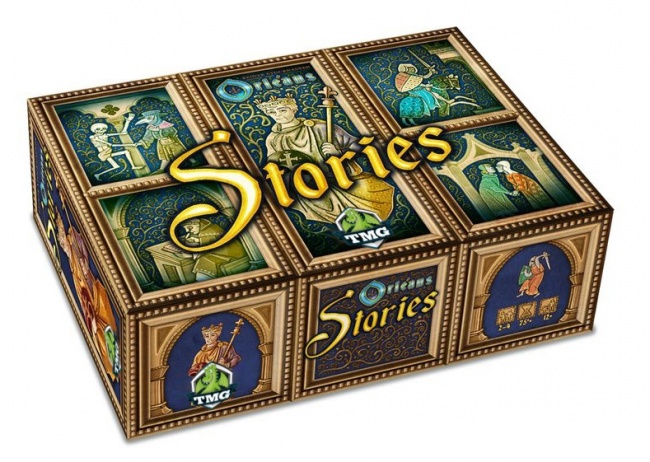 Tasty Minstrel Games announced that
Orleans Stories
, a storytelling board game by Reiner Stockhausen, will release into U.S. trade in Q1.
Orleans Stories is a storytelling board game that revolves around the different challenges players face as they attempt to settle the Loire Valley. This game relies on a bag-building mechanism from the original Orleans game (see "Origins Awards Nominees"), and the parameters play change as the players go through different eras of the game. It creates different challenges for players and increases the replayability of the game.
The game box comes with 5 Beneficial Deeds, a game board, a Marketplace board, 4 player boards, 24 base place tiles, 48 Settlers, 20 Fortresses, 12 Churches, 29 Area tiles, a starting player token, 126 Follower tiles, 18 Technology tiles, 24 Place tiles, 64 coins, 4 cloth bags, 184 Goods tiles, 10 Narration cards, a Era board, a Control board, Elimination tiles, a task pad, 12 marking cubes, 8 Prohibition tiles, a "The First Kingdom" story booklet, 13 Fame tiles, 4 Season cards, 8 Favorite tiles, and a "The King's Favor" story booklet. Orleans Stories is for two to four players, ages 12 and up, plays in 60 to 180 minutes, and will retail for a $79.99.
Tasty Minstrel Games released Wards of London expansion for Guilds of London in November 2019 (see "Tasty Minstrel Games Reveals 'Wards of London'").