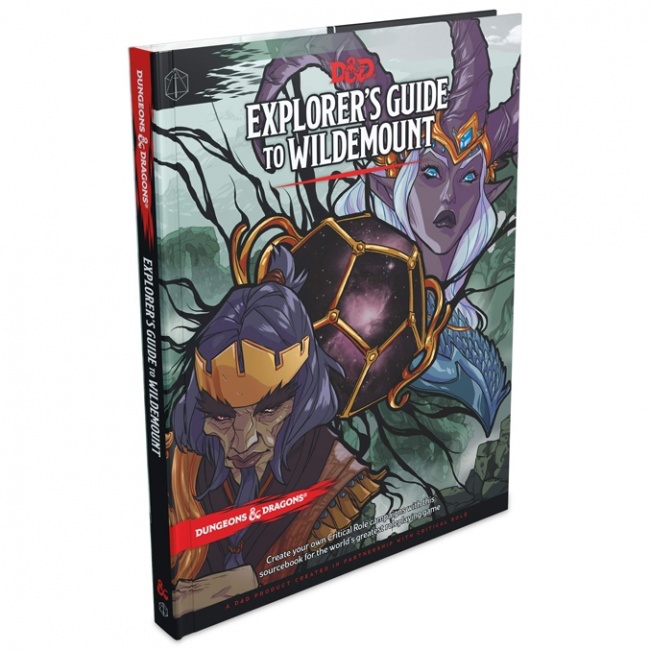 Wizards of the Coast announced
Explorer's Guide to Wildemount
, a new sourcebook for
Dungeons & Dragons
based on the campaign in the second season of
Critical Role,
for release on March 17, 2020. Critical Role is the hit liveplay
D&D
series starring prominent voice actors.
This 304-page setting book explores the world of Exandria, created by Matthew Mercer, the Dungeon Master of Critical Role. Wildemount is comprised of four regions creating a backdrop for a D&D campaign that offers depth and versatility. Players can start a campaign in any of Wildemount's regions with a different introductory adventures and regional plot seeds included in the book. The book also has a new way to build character back-stories with a heroic chronicle system.
Explorer's Guide to Wildemount contains descriptions for all the major factions of Wildemount as well as the creatures that inhabit the regions. Players get new options for subclasses, spells, magic items, weapons, and tools to help them immerse themselves in the setting. This book will retail for $49.95.
Wizards of the Coast also unveiled Laeral Silverhand's Explorer's Kit, a set of accessories for Dungeon's & Dragons: Forgotten Realms, for release on March 17, 2020 (see "Wizards of the Coast Unveils New 'Dungeon's and Dragons: Forgotten Realms' Accessory Set").
Click on Gallery below for full-size images!