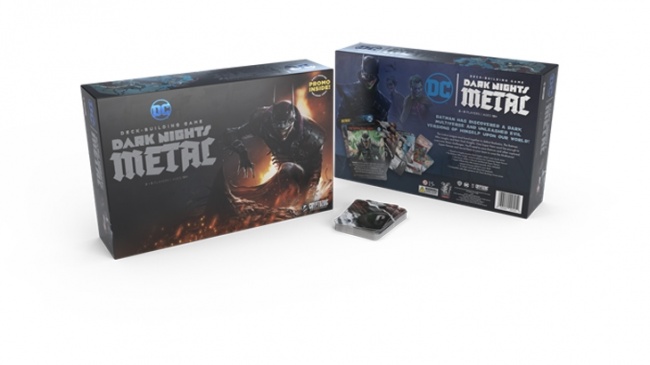 Cryptozoic Entertainment revealed new details on
DC Deck-Building Game: Dark Nights: Metal
including a release date which is currently set for Q3.
Batman has entered a Dark Multiverse and must band together with the Justice League to stop Barbatos, The Batman Who Laughs, and their Dark Knights. In this new edition to the DC Deck-Building Game series, players have to recruit a team to go save Batman. It introduces Rescue and Recruit Super Heroes and Weakness cards that causes heroes to be Captured if too many are played. Also, Super-Villains have instant rewards when defeated instead of being added into a player's deck.
This game is for two to five players, ages 15 and up, and plays in 45 to 75 minutes. Thus far, MSRP has not been made available.
Cryptozoic Entertainment also revealed Epic Spell Wars of the Battle Wizards: Hjinx at Hell High, a new spellcrafting card game, for release in 2020 (see "New 'Epic Spell Wars of the Battle Wizards' Deck-Building Game Welcomes Players to Hell High").
Click on Gallery below for full-size images!