The Book Industry Charitable Foundation is shaping up as the key non-profit collecting and disbursing relief funds for comic stores, bookstores, and their employees. DC Comics was the latest big donor, announcing a donation of $250,000 to Binc to support comic book retailers and their employees in an email to retailers.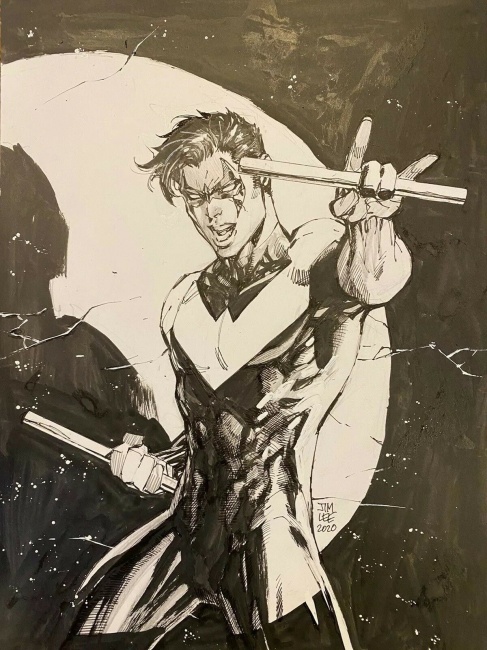 Meanwhile, DC Chief Creative Officer and Publisher Jim Lee is producing 60 sketches of DC characterrs for auction to support Binc relief for comic stores as well. The sketches, which Lee first announced on Instagram, will each go up for auction
on this account
for three days. The winner of each bid gets to choose the next DC character Lee sketches. It looks like Lee's side of the DC efforts could raise as much as or more than the cash donation; the first sketch, of Nightwing, is at $4371.01 as of this writing, a few hours before the auction closes. Two other sketches currently up for bid, of Bizarro Superman and Azrael, are at $2400 with one day left, and $5100 with two days left, respectively.
DC also announced this week that it would take returns on comics published between March 18 and June 24, and said it was working on a "long-term, solution-focused plan" to address the needs of comic retailers during the coronavirus crisis.
Binc's historical mission was to support bookstores and their employees. Comic store relief became a more importaqnt part of the organization's mission last fall with the establishment of the Forge Fund via a $100,000 donation and a promise of ongoing donations by comic publisher Lion Forge (see "Lion Forge Donates $100K to Begin the Forge Fund to Help Comic Retailers").
The bookstore side of the organization's mission is also getting some large-scale support. The largest of recent donations was a $500,000 personal donation by author James Patterson, which kicked off a month-long campaign by Patterson and the American Booksellers Association to raise money to support independent bookstores under the hashtag #SaveIndieBookstores.
Book publisher Abrams announced that it would raise at least $100,000 for the initiative, funding at least half via a corporate contribution.
Some publishers have donated funds for comic store relief using other channels. New publisher Bad Idea is sending $25,000 directly to 100 stores (see "Bad Idea Gives Away $25,000 to Comic Stores"); and Mad Cave Studios established a $100,000 GoFundMe, to which it donated the first $10,000 (see "Comic Store GoFundMe").
Click Gallery below for pics of the first three Jim Lee sketches!