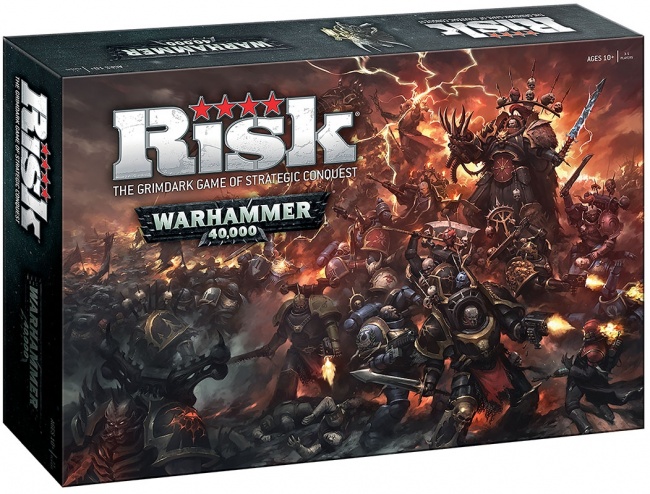 The Op is once again combining a classic board game with Games Workshop's dark sci-fi universe of
Warhammer 40,000
with the new
RISK: Warhammer 40,000
game releasing this fall.
Produced under license from Games Workshop, RISK: Warhammer 40,000 brings the global domination theme of RISK to the world of Vigilus to recreate the War of the Beasts. Players become the leaders of five different Warhammer 40,000 factions: Ultramarines, Aeldari, Genestealers, Orks, and Chaos Marines. Each faction leader has its own unique special abilities to support their forces in pursuit of objectives. Completing objectives grants Reward Cards, which can provide additional armies or other strategic advantages. Players can race to complete three objectives or try to conquer all 40 locations for a "Total Domination" victory.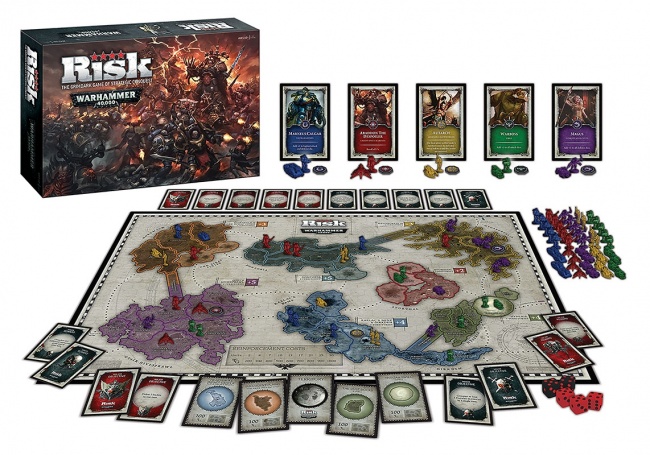 RISK: Warhammer 40,000
features plastic minis with two distinctive sculpts for each faction, dice, cards, and a game board. It is intended for 2 to 5 players, ages 10 and up. MSRP is $49.99.
This is not the first partnership between The Op and Games Workshop, which lead to the launch of Monopoly: Warhammer 40,000 in 2018 (see "The Grimdark Universe of 'Warhammer 40,000' Overruns 'Monopoly'").
Other licensed projects announced by The Op this year include games inspired by SpongeBob SquarePants (see "The Op Sets Course for Bikini Bottom"), Friday the 13th (see "The Op Goes Camping in 'Friday the 13th: Horror at Camp Crystal Lake'"), and the Marvel Universe (see "The Op Plans 'Smash Up: Marvel'").
Warhammer 40,000 continues to dominate the growing miniatures games market (see "Top 5 Non-collectible Miniature Games--Fall 2019"). Games Workshop recently released a wave of new models featuring the Adeptas Sororitas faction (see "Games Workshop Drops a Wave of 'Warhammer 40,000' 'Adeptas Sororitas' Miniatures").