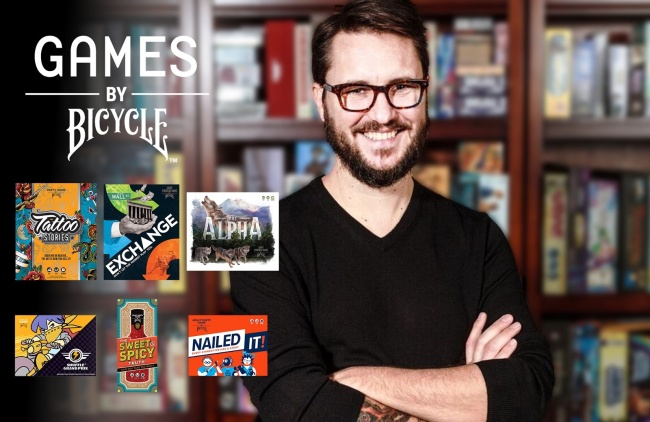 Bicycle Games signed actor Wil Wheaton to promote their "Games By Bicycle" line of board and card games. Additionally, they announced two new adult party games,
The Sweet & Spicy Truth
and
Nailed It,
to release in July.
Wil Wheaton, creator and producer of Tabletop and Titansgrave: The Ashes of Valkana (see "'TableTop' RPG Show Announced"), has been recruited for Bicycle brands to advocate their game lines to the public through their new marketing campaign #EveryonesGotGame. The new campaign is aimed at inspiring people to host more game nights.
"My goal when we created Tabletop was to put more gamers into the world. We'd do that by showing how fun and social gaming is, by playing games that were quick to learn, quick to teach, and quick to play," said Wheaton. "I am thrilled to be partnering with Bicycle to bring this collection of party and light strategy games to the world. These are exactly the games I would have chosen for Tabletop: accessible, uncomplicated, and so much fun to play."
The company also revealed two new party games for July,
The Sweet & Spicy Truth
and
Nailed It
.
The Sweet & Spicy Truth
is a question and answer game where players are asked personal questions that range from general to fairly intimate. Players score points based on determining whether or not the answer to the question was true.
Nailed It
is a game where people tell stories about relatable stereotypes for points. Both of these games support four to twelve players, plays in 30 minutes, and will retail for $19.99.
Bicycle Games also announced two new light strategy games and a word game earlier in 2020 (see "Bicycle Games Announces Two New Light Strategy Games and a Word Game").