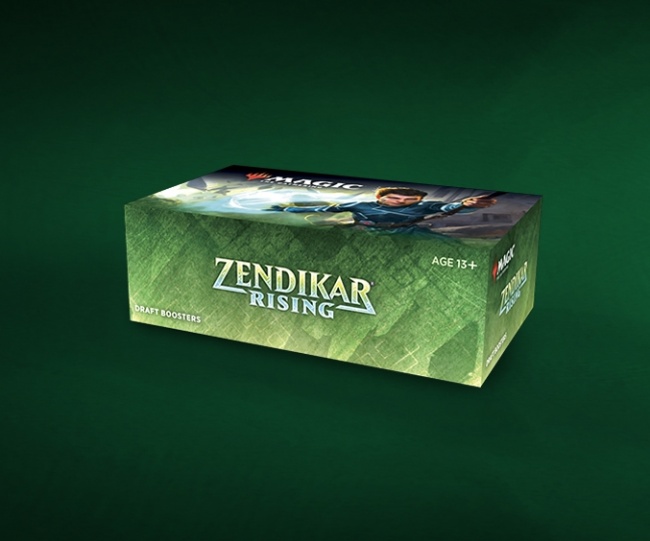 Wizards of the Coast revealed product line details for
Zendikar Rising
which will hit stores on September 25, 2020.
Zendikar Rising Draft Booster Packs and Displays. Draft Boosters are designed for use in Limited formats like Booster Draft and Sealed Deck. These booster packs cards 15 cards from Zendikar Rising, are optimized for the draft format, and come in displays of 36 packs.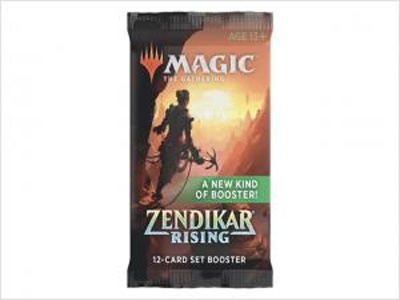 Zendikar Rising Set Booster Packs and Displays
. WotC has created a brand new booster pack type for
Zendikar Rising
called the Set booster. Set boosters are designed for fans who just like the thrill of opening booster packs to see what they can get. Each of these unique boosters contain the following: a
Zendikar Rising
art card, a
Zendikar Rising
full-art basic land, 6
Zendikar Rising
thematically connected commons and uncommons, a
Zendikar Rising
"head-turning" card, 2
Zendikar Rising
wildcard rarity cards, a
Zendikar Rising
rare or mythic rare, a
Zendikar Rising
guaranteed foil card, and a token, ad card, or card from The List.
The List, possibly the most interesting aspect of this product, is a group of reprinted Magic cards that can come from anywhere in Magic history. This is similar to what WotC did with their Time Spiral set back in 2006 (see "Wizards Springs Surprise With 'Time Spiral'"). Additionally, Set booster displays will come with 30 packs each.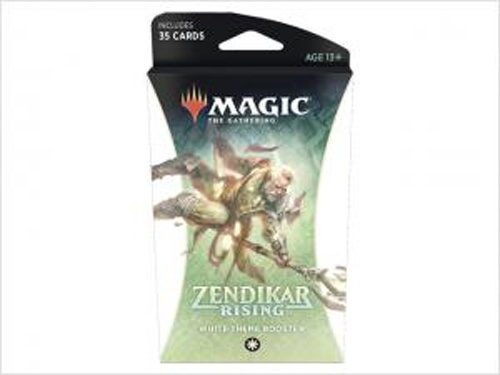 Zendikar Rising Theme Booster Packs and Displays
. These booster packs contain 35
Zendikar Rising
cards that are themed to fit a specific color or color pairing. Theme Booster displays come with two of each booster pack theme type with 12 total packs per display.
Zendikar Rising Collector Booster Packs and Displays. The Collector boosters are loaded up with premium cards from the Zendikar Rising set. They come with 16 cards and a double-sided foil token, and they are packed in displays of 12 boosters.
Zendikar Rising Bundle. The traditional Bundle comes with basic lands and draft boosters for players who want to explore the new set and get storage options. This Bundle comes with 10 Zendikar Rising Draft boosters, a 20 foil land pack, a 20 regular land pack, a foil promo card, 2 reference cards, a storage box, and an oversized Spindown life counter. Bundles are shipped in cases of 6.
Zendikar Rising Bundle Gift Edition. Around the holiday season, WotC usually releases a gift box to boost sales (see "Wizards of the Coast Unveils 'Throne of Eldraine Holiday Gift Bundle'"). The Zendikar Rising version comes with the following: 20 non-foil basic lands, 20 foil basic lands, 10 Zendikar Rising Draft booster packs, a foil promo card, an oversized Spindown life counter, 2 reference cards, a storage box, and a Zendikar Rising Collector booster. This product will also feature 'special packaging', which has not been revealed.
Zendikar Rising Prerelease Pack. Prerelease Packs, made specifically for prerelease events run during the week of September 18, will be allocated and come 18 to a case. WPN members will be notified of allocations via email when scheduling opens on July 13, 2020. Each kit contains 6 Zendikar Rising Draft Booster packs, a foil promo-stamped rare or mythic rare from Zendikar Rising, a Spindown life counter, and a MTG Arena code card (code card available only in certain regions).
Zendikar Rising Commander Decks. The Zendikar Rising set features two ready-to-play decks which were announced at the end of October last year (see "'Magic: The Gathering' Unveils Four New Products For Commander Players"). Each deck comes with 99 cards, a foil Commander, 10 double-sided tokens, a deck box, and a Life Wheel. The decks will be shipped in boxes of six with three of each deck.
Click on Gallery below for packaging images of the products!