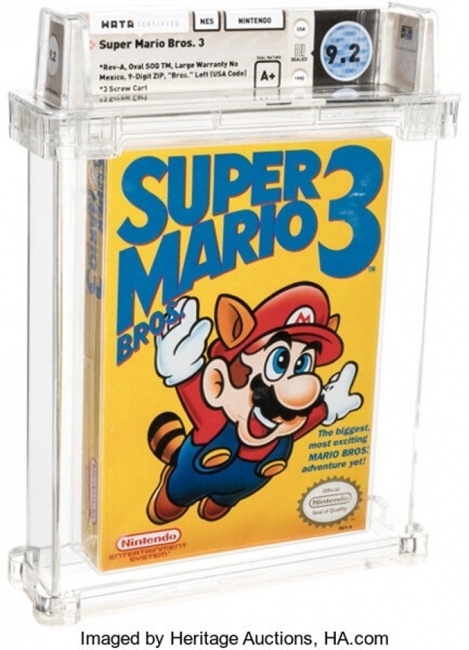 Heritage Auctions will be featuring a variety of rare, graded Nintendo cartridges at their Comics & Art Signature Auction on November 19 - 22 in Dallas, Texas.
Heritage is offering a solid line up of graded cartridges for their November auction this year with the headliner being a rare Nintendo World Championships 1990 cartridge graded at Wata 5.0. These cartridges were created solely for challenging contestants in the 1990 world championship events, and never meant to be released into public hands. These cartridges were meant to be scrapped after the competition, but it is widely believed that Nintendo event organizers gave them to finalists as a consolation prize. There are estimated to be less than 100 of these cartridges left in existence.
In addition to the NWC cartridge, there are also several other rarities up for sale. There is a first production Super Mario Bros. 3 cartridge graded at Wata 9.2 that has already bid up to $39,000 with 9 days left before the hammer falls. Two other cartridges of note is a Metroid graded at Wata 9.4 and the ever popular 1989 Teenage Mutant Ninja Turtles Ultra game that is graded a Wata 9.8.
A sealed Super Mario Bros. hit six figures in July (see "Video Games, Pokemon TCG Cards, Comic Art, Comics Bring Big Prices in Heritage Auction").