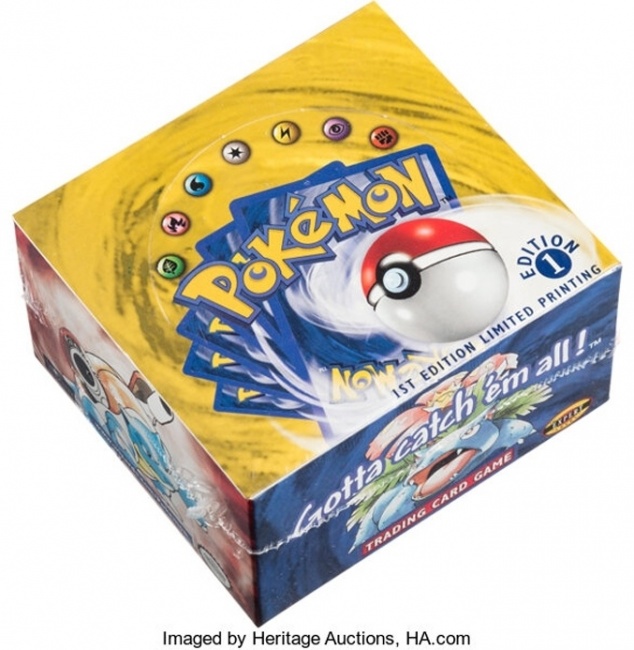 Heritage Auctions sold a
Pokemon 1st Edition Base Set
Sealed Booster Box at auction for a whopping $360,000. This item was sitting at $260,000 with 10 days left to go (see "
Heritage Auctions Puts Another 'Pokemon 1st Edition' Sealed Booster Box on the Block
").
The prices for rare Pokemon sealed products just keep climbing higher. Not long after a similar sealed box went for $198,000 (see "Heritage Auctions Offers First Edition Sealed 'Pokemon' Box, High-Grade Video Games, and Lower Grade Bucket-List Comics at Their September Auction"), Heritage dropped the hammer on this Pokemon 1st Edition Base Set Sealed Booster Box for $360,000 (with buyer's premium). That represents roughly an 80% mark up in less than two months for the same item type, which is an astronomical gain in such a short period of time!
The buyer frenzy can likely be partially attributed to the social media enthusiasm over collector grade Pokemon products being generated by YouTube celebrities like Logan Paul, Randolph Pokemon, and Gary Vee (see "Blazing Hot 'Pokemon' Singles Market May Be Partially a Result of Social Media Hype"). Paul and his cohorts have been collectively advocating the merits of owning Pokemon cards claiming that cards purchased now will be worth more in the next two to three years. Paul was the owner of the $198,000 Pokemon 1st Edition Base Set Sealed Booster Box, which he opened on his YouTube channel.