Heritage Auctions announced their offerings of rare collectibles, graded video games, and comic books for their 2020 September 10 - 13 Comics & Comic Art Signature Auction in Dallas, TX. The headline item for this auction is Frazetta's
A Princess of Mars
(see "
Frazetta Painting Comes to Market
").
The prime tabletop gaming collectible from this auction is a Pokemon First Edition Base Set Sealed Booster Box from Wizards of the Coast. Stored away since 1999, this box is in its original shrinkwrap, and contains all 36 booster packs. According to Heritage, a similar box sold for $78,000, but lately demand for rare Pokemon cards and sealed product has been on the rise (see "Ultra Rare 'Pokemon' Card") and with 15 days to go, the online bidding is at $84,000 with the buyer's premium included.
The vintage, graded video game titles being offered at this auction are some of the most desirable titles for collectors. There will be a Gyromite Wata 9.6+ Sealed with a Matte Sticker on the block, which will be the highest-graded matte sticker sealed game ever offered. The matte sticker seal indicates that this copy was from the first production run of the title which Nintendo released into the Manhattan test market as one of two games in the Robot Series to be used with the R.O.B. accessory (Robotic Operating Buddy). It is an ultra-rare early production game with an incredibly high grade, and is expected to fetch a serious premium.
Alongside the Gyromite gem, Heritage has several other heavy-hitting NES titles up on the block. There is another copy of Super Mario Bros. for sale that clocks in at a Wata 9.8 grade, where a recent Wata 9.4 copy ended at $114,000 (see "Video Games, Pokemon TCG Cards, Comic Art, Comics Bring Big Prices in Heritage Auction"). The auction will also feature a Wata 9.6 copy of The Legend of Zelda and a Wata 8.5 Mike Tyson's Punch Out!! which are also expected to do well.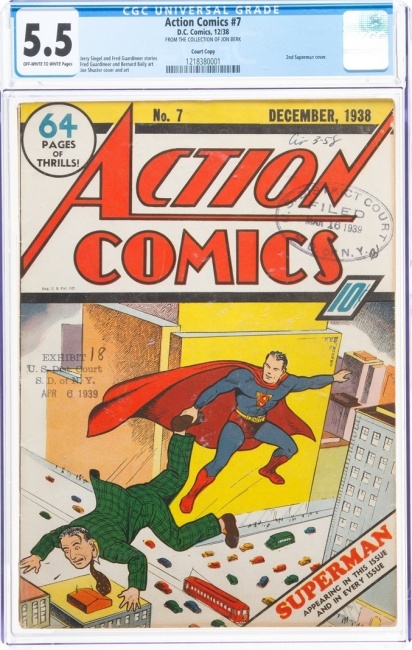 As for comic books, there are a number of bucket-list titles available in lower grades. They are have three copies of
Amazing Fantasy #15
ranging in grades between CGC 5.0 and CGC 6.5, a CGC 2.0
Captain America #1
, and a Court Copy of CGC 5.5
Action Comics #7
which was used as evidence in a lawsuit between DC Comics and Fox. These comics are not the cream of the crop, as far as condition goes, but they are attainable for collectors looking simply to get their hands on a copy. High-grade copies of
Amazing Fantasy #15
have surpassed the million-dollar mark in recent years (see "'
Amazing Fantasy' #15 sells for $1.1 Million
"), and high-grade copy of
Captain America #1
reached just under a million in 2019 (see "
'Captain America' #1 Gets Record Price at Heritage Auction
").