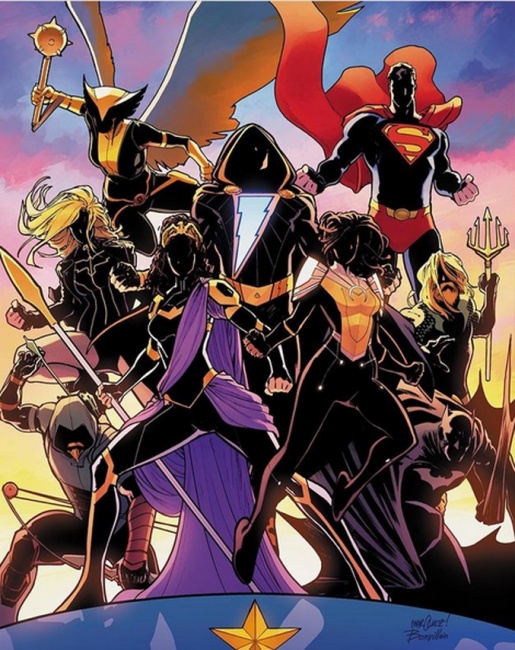 Brian Michael Bendis teased his possible takeover of the
Justice League
's creative team by posting artwork by David Marquez on his Instagram account.
DC Comics has been shuffling around its creative teams for March, and it seems like it is going to be Justice League's turn for a shake-up shortly. Bendis recently posted a preview image of the new Justice League team with their faces blacked-out on his Instagram account. The teaser shows current members Superman, Batman, Aquaman, and Hawkgirl as well as returning members Green Arrow and Black Canary.
However, there are three new adds depicted in the image: Black Adam, Naomi, and Hippolyta. This would be Black Adam and Naomi's debut in the Justice League, and the Amazon Queen looks poised to take her daughter's spot for a while.
Bendis had recently been doing a run on Superman (see "Confessions of a Comic Book Guy -- First We'll See And Then We'll Know") as well as working on Legion of Super-Heroes (see " (see "Bendis Looks to the Future in 'Legion of Super-Heroes: Millennium'"). In a press release, DC revealed that Phillip Kennedy Johnson would be stepping into the Superman writing role that was previously occupied by Bendis. Johnson had the following to say about his new position:
"I can't begin to describe what an honor it is to be writing Superman and Action Comics," said Johnson. "Especially following one of my industry heroes, Brian Michael Bendis. One of my very earliest memories is the thrill I felt watching the Christopher Reeve Superman films for the first time. My goal for every issue will be to give readers that same physical reaction, and the same lofty aspirations that Superman inspires: the desire to be better than we are, and to do more than the world thinks we can do."
Bendis' Future State: Legion of Super-Heroes will come out as scheduled for DC's January event (see "DC Comics Drops 'DC Future State' Announcement").