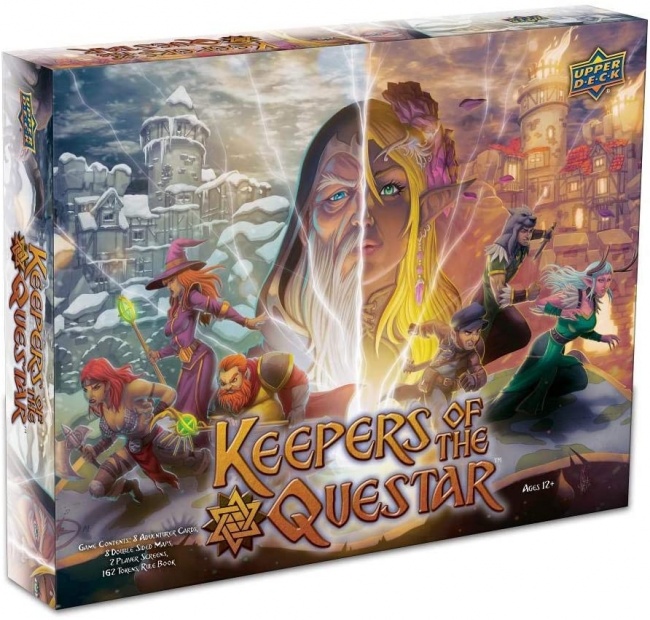 Upper Deck announced
Keepers of the Questar
, a new dungeon-crawling board game, for release in Q1.
In Keepers of the Questar, parties of adventurers compete to complete the Quest Masters' quests and become the new Keepers of the Questar. It is a one-on-one dungeon crawling game where both players assume the roles of both the party of adventurers and the Quest Master as they race to complete a dungeon map designed by their opponent. There are several options for maps, monsters, and heroes, so the game is different every time it is played.
The game box contains 8 Adventurer cards, 8 double-sided maps, 2 Quest Master screens, a Quest Sheet pad, 36 Monster tokens, 28 Trap tokens, 4 Wellspring tokens, 4 Entrance Portal tokens, 4 Exit Portal tokens, 4 Chest tokens, 4 Questar tokens, 12 Combat/Ability tokens, 24 Experience tokens, 38 Health Damage tokens, 4 Party Markers tokens, 2 Token Bags tokens, and a rulebook. The game is for two players, ages 12 and up, plays in 45 minutes, and will retail for $24.99.
Upper Deck also released ALIENS: Bug Hunt, a new card and dice game, in Q4 (see "Upper Deck Will Release 'ALIENS: Bug Hunt'").