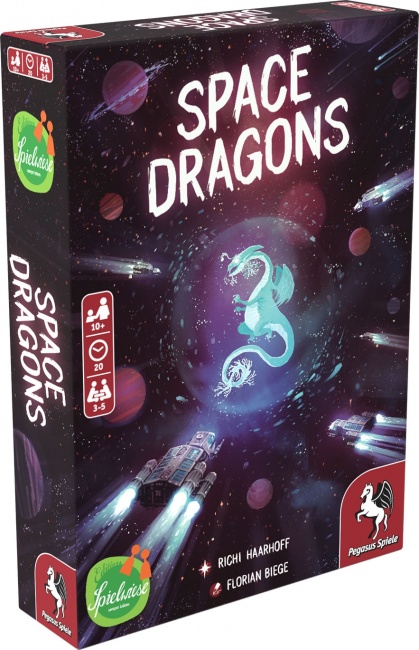 Pegasus Spiele revealed
Space Dragons
, a card dice game by Richi Haarhoff, for release in June.
In Space Dragons, players assemble a crew deck to go on a galactic voyage to face dragons in space. The game happens over the course of seven rounds where players try to maintain a balance between capturing high-point dragons and the cost of the damage to their ship incurred by hunting the dragons. The mechanics revolve around trick-taking and drafting cards, and scoring is based on cards linked to science, morale, and sometimes even crime.
The game box comes with 103 cards and rules. This game is for three to five players, ages 10 and up, and plays in 20 minutes. It will retail for $14.99.
Pegasus Spiele will also release Kyoto, a board game about the political dynamics of climate change board game by Deep Print Games, for the U.S. hobby channel in Q2 (see "Pegasus Spiele Will Release 'Kyoto' into the U.S. Hobby Channel in Q2").