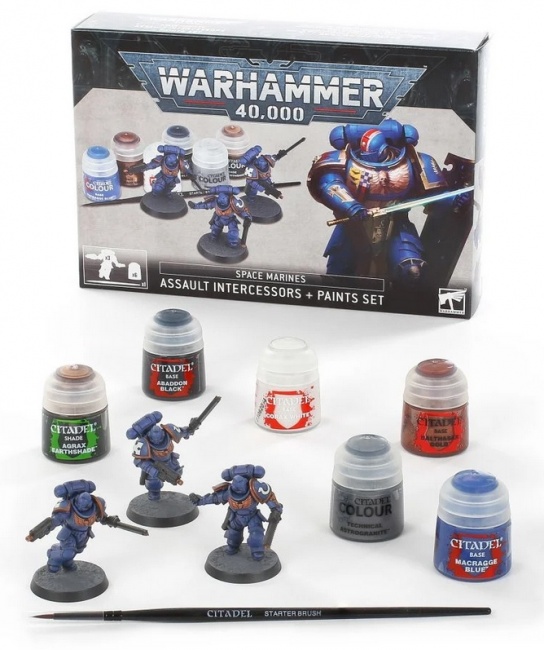 Paints and paint supplies are essential products for retail stores that stock miniatures, but the array of these products is vast, and often the solicitations come in the form of nondescript lists. Here are some tips to help sort out the top paint lines. Citadel Colour, The Army Painter, and Acrylicos Vallejo all offer comparable product lines that are often used by miniature painters in tandem with one another, and there are other lines good for specific purposes.
Citadel Colour paints are more or less the most popular gaming miniatures paints on the planet. They make several quality products, but there real strength is in their Metallics, Technical paints, and Shade paints. Colors like
Retributor Armour
,
Leadbelcher
, and
Balthasar Gold
are staples for painting up most types of fantasy armor on miniatures. Their Technical paints like
Astrogranite
and
Stirland Mud
are excellent for adding turf-like textures to bases, and
Nuln Oil
is more or less the gold standard for adding shading depth to miniatures via a wash. Citadel Colour paints can be carried as a paint rack, or Games Workshop makes several box sets, like the
Space Marines: Assault Intercessors + Paints Set,
that come with models, paints, and a brush all in one kit for $35.00.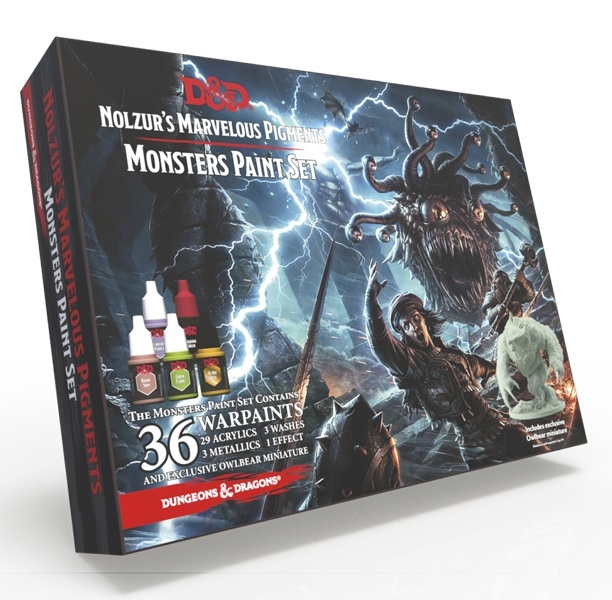 The Army Painter has a great line of base paints, some of which are
D&D-
licensed. They make
D&D Nolzur's Marvelous Pigments Monsters Paint Set,
which has 36 colors all aimed at painting up monster miniatures. The Army Painter also offers The Army Painter: First Choice Retail Program for stores. Retailers that sign up for this online platform get access to newsletters, product images, resource bank, articles, product information, sales pointers, tutorial videos, and their release schedule. The primary benefit from this program is that the online platform features a store locator that allows customers to find retailers who carry The Army Painter products by country.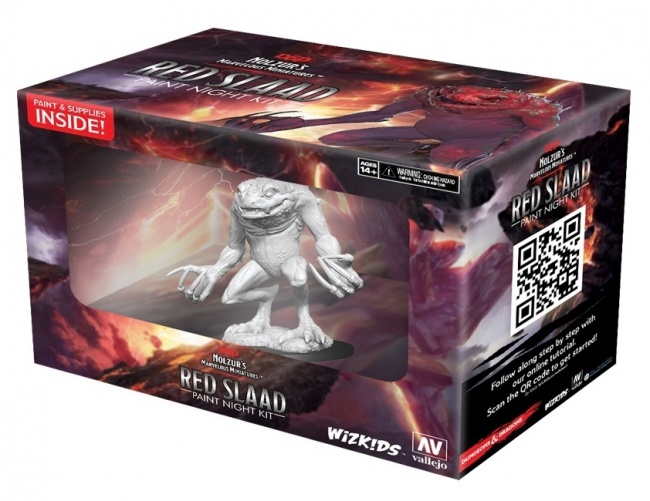 Acrylicos Vallejo makes several good products, and they have been even more prominent since partnering up with WizKids to do their branded paint lines. The standout in their product line is clearly their Eccentric Color Series that provides painters with the ability to add subtle chromatic variations to their miniatures. They also make a great base-flocking product called
Tufts
(see "
Acrylicos Vallejo Reveals New 'Scenery Diorama Products: Tufts'
"), and WizKids produces
Paint Night Kits
that include their paints inside the boxed sets. These
Paint Night Kits
are great tools for retailers to drum up interest in painting events. Each kit comes with comes with a figure, 12 Vallejo paint colors, 2 brushes, a water pot, and a blister pack that doubles as the paint palette, all for $19.99 (see "
WizKids Unveils a Brand-New 'Dungeons & Dragons' Paint Night Kit
").
Privateer Press produces several different paint sets and individual colors. Their line's strength lies in their Formula P3 highlight paints which include unique colors like Moldy Ochre, Heartfire, Sanguine Highlight, and Murderous Magenta that can be used to accent certain points on a miniature.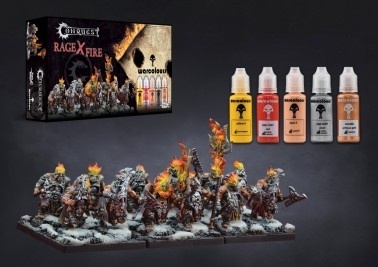 Para Bellum Wargames has also entered the paint scene by partnering up with paint companies to produce kits that complement their
Conquest: The Last Argument of Kings miniatures game (see "
Para Bellum Wargames to Launch 'Conquest'
")
. They just announced a Warcolours collaboration set called
Rage X Fire
. This new kit includes an entire infantry set of Dweghom Flame Berserkers for
Conquest
and 5 full-sized bottles of Warcolours paints for $49.00. It comes with a free ticket to a Live Painting Stream event hosted by
Miniatures Wargaming
magazine on May 6. This set also has a special retail offer: FLGS that order 10 or more sets of
Rage X Fire
boxes will get a bonus demo set for free. Para Bellum also recently released a Turbo Dork collaboration, the
Inferno X Turboshift
model paint kit, into retail in February
(see "
Para Bellum Wargames Collaborates with Turbo Dork for a New Model Paint Kit
").
Click here
for more Miniatures Week coverage.