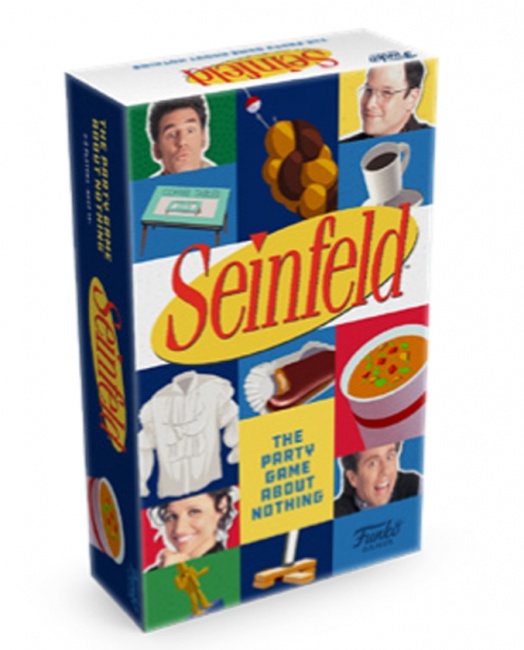 Funko Games unveiled
Seinfeld: The Party Game About Nothing
, a new two team trivia game, for release on June 15.
This new two team trivia game lets players answer questions and complete challenges revolving around the classic 90s TV show. Teams score points by answering trivia questions, acting out charades, and guessing who said or did some of shows' bits. The game has over 1400 individual questions, quotes, and charades cues to challenge players. It also comes with marble rye bread and fishing pole as a win condition.
The game box comes with 176 Challenge cards, a card box, a Challenge die, 8 character tokens, 6 Newman tokens, 22 point tokens, 2 Challenge Reference cards, a 60-second sand timer, a Start card, a Finish Card, a Marble Rye Bread, a Fishing Pole, and instructions. This game is for two to eight players, age 14 and up, and plays in 20 to 30 minutes. It will retail for $19.98.
Funko, Inc. also revealed that it has purchased a majority ownership stake in the developer of the mobile app and website Tokenhead, which allows users to showcase and track NFTs (see "Funko, Inc. Dives into the NFT Market with TokenHead").