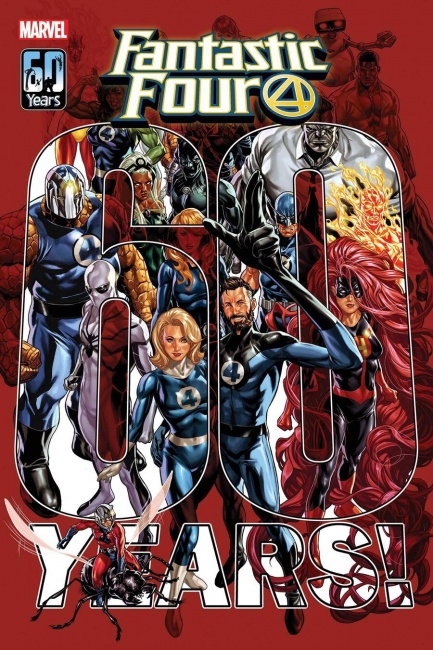 Marvel Comics announced a
Fantastic Four
#35, featuring artwork by John Romita Jr., will release into comic shops on August 25.
Romita Jr.'s return to Marvel was announced back in April (see "Romita Jr. Moves Back to Marvel "), and Marvel mentioned that he would be working on their iconic characters and titles. One of the first of these icons that Romita Jr. will be provideing art for will be the Marvel's First Family in a 60th anniversary issue in a giant-sized Fantastic Four #35. In this issue, the Kang bloodline is attempting to destroy every era of the Fantastic Four, and Reed, Sue, Ben and Johnny need to survive simultaneous attacks across their lifetimes by Rama Tut, the Scarlet Centurion, Kang the Conqueror, and sinister Scion.
This book features a number of top level talents. It was penned by all-star writer Dan Slott (Amazing Spider-Man), Mark Waid (see "Waid Takes Over as Humanoids Publisher"), and Eisner-winner Jason Loo (see "Eisner Awards 2020: Wide Range of Winners") with the art provided by Romita Jr., Paul Renaud, and Loo. The cover for this book was rendered by Mark Brooks.
Marvel Comics has announced Fantastic Four: Life Story for release in May (see "History is Retold in 'Fantastic Four: Life Story'").
Click on Gallery below for full-size images!