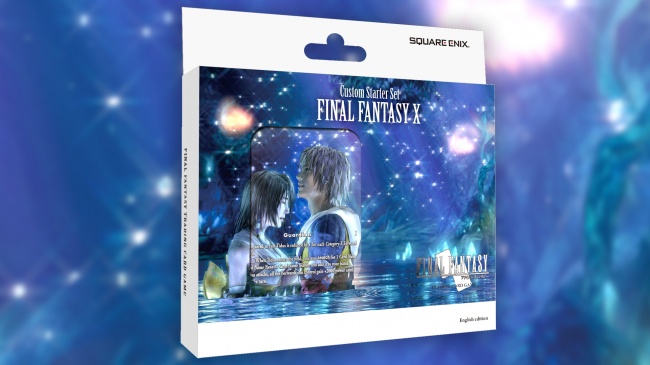 Square Enix revealed
Custom Starter Set Final Fantasy X
, an English edition set for
Final Fantasy TCG
, which will release in Q1 of 2022.
Custom Starter Set Final Fantasy X is a new type of starter set that consists of a preconstructed 50 card deck with an additional 50 cards included that can be used to customize it. The base deck is a Wind/Water deck with 24 Wind element cards, 24 Water element, and 2 Light element cards. The additional cards let the builder convert it into a Fire/Water or Fire/Wind deck by swapping out the Wind or Water element cards with the 24 additional Fire element cards. The 26 other cards in the deck are "flex" cards that can be swapped with any of the other cards.
The set comes with 100 cards, 10 of types of which are exclusice to the starter (comes with 3 copies of each). It will retail for $24.99.
Square Enix also will release Final Fantasy TCG: Crystal Dominion, a new expansion for Final Fantasy TCG, in November (see "'Final Fantasy TCG' Booster Expansion").
Click on Gallery below for full-size images!