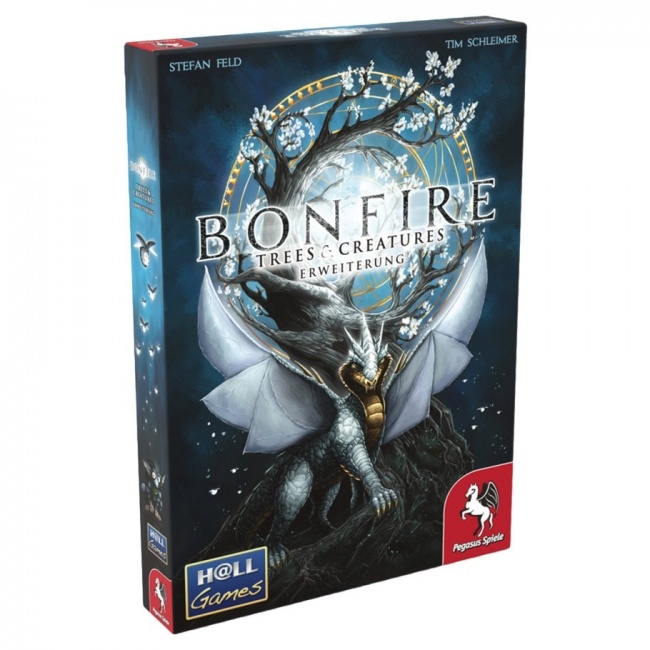 Pegasus Spiele will release
Bonfire: Trees & Creatures
, an expansion by Stefan Feld and Tim Schleimer for the
Bonfire
board game, into retail in Q4 2021.
In Bonfire: Trees & Creatures, players are able to expand the base game with three additional modules that allow them to add a fifth player to the game. This expansion allows players to expand their city with tree tiles that can be placed above the path tiles. The tree tiles unlock bonuses as well as new ways to score the game. The creature cards in this expansion feature unique abilities that help players along the way.
The game box comes with a Tree board, 24 Tree tiles, 3 Tasks, a Novice, 6 Guardian tiles, a Gnome card, a card for solo play, 9 Creature tiles, 21 Event cards, a player board, an Action Overview, a Starting tile, an Extension tile, 21 Action tiles, 7 Portals, 10 Offering tiles, 8 Fate tiles, 1 "0/50" Marker, a score marker, and Overview card, 7 Novices, a Ship, a Guardian, 18 Resources, 8 Multipliers, 2 rulebooks, and a sticker sheet. This expansion will retail for $39.99.
Pegasus Spiele released Bonfire into U.S. retail last year (see "Pegasus Spiele Will Release 'Bonfire' Into U.S. Trade").