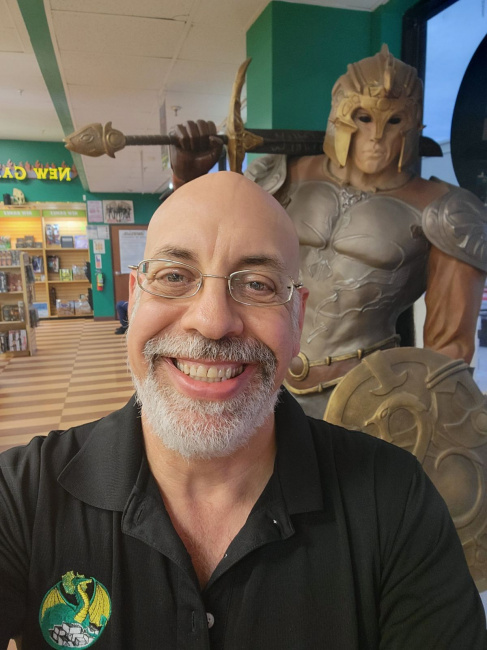 In Business 3x3, a business retailer or executive will share their experience with three things they've done right, three things they've done wrong, and what else they've learned along the way. In this month's installment, we talk to a comics and games retailer with 35 years of experience, who credits a diverse product line, being proud of what you sell, firing toxic customers, and other lessons with helping him build a five-store franchise operation.
If you want to get to a point where you're franchising comic and game stores... hey, don't discount farming as a way in.
"At 13, I was given a cow of my own, per family tradition," says David Wheeler.
Wheeler grew up on a farm and became accustomed to the hard labor inherent there. And maybe farming didn't lead directly to the Dragon's Lair stores, but stints as a youngster working at two other comic/game stores, Capital Comic Company and Phoenix Books in Austin, Texas, did.
In 1986, while still a student at the University of Texas, Wheeler watched Capital and Phoenix close. He saw an opportunity.
"They had their own clientele and their own communities that were separate and distinct from each other," Wheeler recalls. "I had been working at those stores, so I had a connection to those customers, those communities. I felt I could take those connections and establish my own store."
Wheeler rolled the dice and opened Dragon's Lair in Austin. He has since converted his ownership to a franchise operation, with four stores currently under the banner in Texas, and a fifth coming soon in Columbus, Ohio. Along the way, he's learned a lot, starting with community...
THE GOOD
Work on Building Community
"Everything that we sell can be found cheaper online," Wheeler says. "What we're selling is the in-store experience, the in-store immediacy, having products on hand, and the community we build."
Dragon's Lair's website has a "customer safety and comfort" notation right on the main page, and Wheeler casts his net as wide as possible.
"I connect to my customers, and try to help them connect to each other," he says. "We have also worked hard to make this a safe space where all communities can come in and feel welcome. We participate in pride parades; we work to make the stores a safe place for the LGBTQ+ community."
Dragon's Lair stores have organized cosplayers to go to children's hospitals to give away comics to kids, and more. It's all part of reaching out, and making a connection.
"What we do with so many back issues that essentially lose their value after six months after they've been replaced by a trade paperback is donate those to libraries, schools, and so on," Wheeler says. "It goes to a good cause, and we're not keeping an essentially unsellable item around."
Listen to Your Customers
Wheeler had some fits and starts—more on that in a bit—when it comes to product mix. But he's learned to keep his ear to the ground.
"If someone tells us they want us to bring something in that excites them, we listen to them," Wheeler says. "Back in the '90s, when a friend of mine told me about a neat card game that he had played and that we should bring some in, I did, which is why we carried
Magic: The Gathering
from its earliest days."
Wheeler is even happy to listen to his customers when it comes to food, and Pocky is now a Dragon's Lair staple.
"We've used our customers to guide us into lots of good, diversified departments," he says. "As long as it's stuck to our core brand of being a comic book-game-sci-fi-pop culture store, we take a look at something if our customers ask for it."
Get Rid of Back Issues
Wheeler knows this is a double-edged sword, and many stores thrive with back issues. But... it's not for him. The eyes-snapped-open moment happened when he ran some numbers, and the math smacked him in the face: Back issues were taking up about 30% of his floor space and generating 3% of his revenue.
"Over time, as we got more into games, manga, anime, and more, comics became a smaller and smaller part of our business," he says. "Essentially, I sold out my back issues, replaced them with gaming tables, and because back issue comics are so supply- and time-intensive, I improved by bottom line by quite a bit."
Dragon's Lair typically builds blind-bag back-issue packs after six months, and of course, there's always the children's hospitals, libraries, and more.
"It gets these books into the hands of new people who can now love and appreciate them," Wheeler says.
THE BAD
Don't Come In Under-Capitalized
That first Dragon's Lair store in 1986? Started on $10,000, which Wheeler quickly found was not enough to make a go of it.
"It worked for me, sort of, because I was attending the university, living in the store," he says. "But if you do not have enough operating capital to work your store, any adversity can sink you."
Wheeler almost sank.
"I really wanted to be a bookstore," he recalls. "So I put a lot of my funds into buying fantasy and science fiction paperbacks without gauging whether or not my customers would appreciate this. If you're opening a store on only $10,000, you really can't afford to put a large amount of your money into a department that's not going to perform."
Wheeler calls his paperback trial "a point of despair," but was eventually able to pull out with an additional $7,000 loan from his mom, the same place where the first money came in.
"And I dumped the department and learned the lesson that you have to learn what your customers want rather than force them to like what you like," he says.
Get Yourself Educated, or Get Experts
"As a store owner, you are a jack of all trades," Wheeler says. "But there are a lot of people who have a lot more knowledge than you do, and you have to pay them for their knowledge to help you increase the value of your store."
Wheeler is a big believer in finding the right realtors, accountants, lawyers, or any professionals who can do their job better than you, so that you can do your job even better.
"I was very ill-educated for my profession when I started," he says. "And when I opened my store, I certainly didn't have the money to hire experts. What I've learned is that it's best to pay experts."
Watch That Money Closely
As if undercapitalization and a paperback book dead-end weren't enough at the start, Wheeler had other problems as well.
"I did not have good systems in place for tracking money," he says. "I had someone taking money from the till, and it took me far too long to know that was happening. That's always depressing. It's frustrating and sad."
Wheeler learned a hard lesson, and now always has proper controls in place.
AND WHAT ELSE?
"Back in the old days, in the '70s and '80s, being a geek was not respected like it is today. Computer science is a widely respected career path now. But if you take a look back at movies like War Games, being a geek was looked down upon. Loving comics, loving games... you were almost seen as a social pariah. So one of the things I wanted to do was create a store where people could feel proud about the things they loved, and find other people to interact with."
"This may seem like a weird digression, but if you look at my logo, you will see that the dragon curled around his comic book boxes is a proud dragon. He is proud of his hoard. This is the attitude I wanted to share with my customers—they should be proud of what they love."
"When Capital closed and Phoenix closed, I walked up to my girlfriend in the library and said, 'How much do you think it would cost to open a comic and game store?' and I walked away before she could answer."
"I mean 'living at the store' literally. The store was an original house that someone had added a single-wide to the front of, and I was also leasing to a watch shop that was in the same building. It had a kitchen, it had several bedrooms, one of which was connected by a walkway to a shed that had been added prior. But it was not a lot of rent, and I was able to sleep there and study and have a large enough bedroom and that sort of thing. But I lived there. My brothers lived there in a separate room at one point, because we were all attending UT."
"I'm traveling to Columbus to spend a month up there to help Phil Siewert open his store. He took the plunge and signed up for a franchise store in October 2020, during the pandemic, knowing it would take longer to open his store. Here, almost 18 months later, we're finally getting his store open."
"Currently, the initial franchise fee is $24,000. That will be increasing. There's also a monthly marketing percentage. For that amount of money, I help consult on location, leasing, there's a large amount of training, these days largely online and Zoom meetings. We train on the background of marketing, the background of the industry. Basically, we can take people with no retail experience in comics and games, and whereas we can't give you three years of experience immediately, my goal is to give you three years of knowledge by the time you open your store."
"In addition to online training, we also bring people in to do 20 to 30 days at one of the existing stores, training them how to run the operation, interacting with customers, how to use the computer systems, merchandising, back-office, HR, all those things."
"I'll talk to people about 'using location as advertising.' I want people to have stores that are easy to access from surrounding roads. I want them to have good visibility from road frontages. Access is important. You want to be on the side of the street where people are driving when they're returning home from work. It makes it easier for them to come in, casually stop at your store."
"We've actually been able to negotiate leases, get some substantial tenant improvements put into leases. It's really nice to have landlords pay to build out your store for you. I try to provide a lot of support for our franchisees."
"I tell my franchisees that in invisible letters over their store are the words 'diversity is life.' When Magic: The Gathering sales soared and when
Dungeons & Dragons 3.0
did so well, I took the money that I made from that and used it to diversify what I offer. That's how when Fallen Empires, for example, came out and the market crashed, a lot of stores couldn't pay their bills. So 'diversity is life' means that when one department in the store crashes, you still have the other departments to shore you up. Diversify your stores."
"I require franchisees to have a sufficient war chest to open the store. I require my franchisees to use about 2/3 of their initial amount of money to open their store; buy fixtures and inventory and etc., but they have another 1/3 as operating capital."
"Be willing to fire customers. If you have a customer who is rude to your employees, they do not have a right to be there. It is perfectly fine to take someone who is demeaning your employees and say, 'Thank you very much for coming in, I appreciate your business over the years, but I am afraid you are no longer welcome here.' That's a conversation I've had to have a few times. It's better to do that than to have those negative people in your community."
Click Gallery below for store photos!