Wizards of the Coast previewed
Streets of New Capenna
, a new booster set for
Magic: The Gathering
, which will hit the streets on April 29, 2022.
This is the first Standard set to release for FLGS at prereleases prior to a digital release since the mainstream launch of MTG Arena (see "Digital Release"). New Capenna is a city run by five families (Obscura, Maestros, Riveteers, Cabaretti, and the Brokers) that has an art-deco fantasy noir feel to it. The city, itself, exudes power and luxury while having a seedy underbelly of corruption.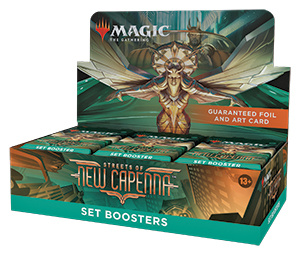 The product line features the usual Draft, Set, and Collector Boosters as well as a Japan-exclusive 10-Set Booster Display. This line will also have Bundle, that includes an alternative art promo card and spindown die, and five different Theme Boosters, one for each of the five families that run the city. For prereleases, WotC will offer up five different Prerelease Packs tailored toward each of the families.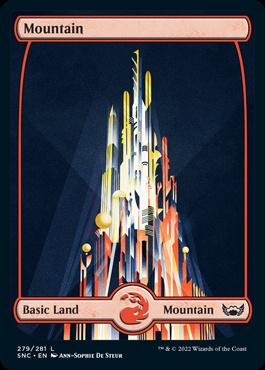 The set will also showcase the five families in a Commander Deck for each. These Commander Decks will also include a new Collector Booster Sample Pack, which has two cards that could be pulled out of a Collector Booster pack. As for the card treatments included in this set, there will be few different versions of cards available in packs, including borderless cards, skyscraper treatments, and golden age treatments. Packs will also contain full-art art deco basic land.
For more information on future releases of Magic products, check out ICv2's 2022 calendar (see "'Magic: The Gathering' Release Calendar For 2022/2023").
Click on Gallery below for full-size images!