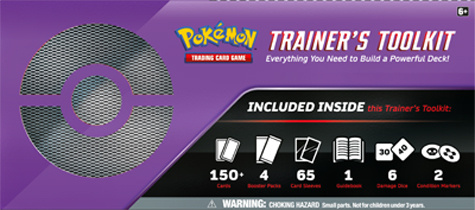 The Pokemon Company International revealed
Pokemon TCG: Trainer's Toolkit 2022
for release on July 1, 2022.
This box contains plenty of Trainer cards and Energy cards to help players build up a brand-new Pokemon TCG deck. It is an box set that helps new and old players create new decks and find original combos to get them ready for the competitive scene. Pokemon TCG: Trainer's Toolkit 2022 also includes a Deck Builder's Guide to help Trainers get the best use out of the Pokemon they have.
The box comes with 50+ useful cards to power up your decks, including dozens of Trainer cards, 6 Special Energy cards, and 2 copies of Lumineon V. It also includes 100-plus basic Energy cards, 4 Pokemon TCG booster packs, 65 Card sleeves, the Deck Builder's Guide, 6 damage-counter dice, a competition-legal coin-flip die, 2 Condition markers, a VSTAR marker, and code card for Pokemon TCG Live. It will retail for $29.99.
Check out ICv2's Pokemon TCG 2022 release calendar for more information on upcoming products (see "'Pokemon TCG' Product Release Calendar 2022").