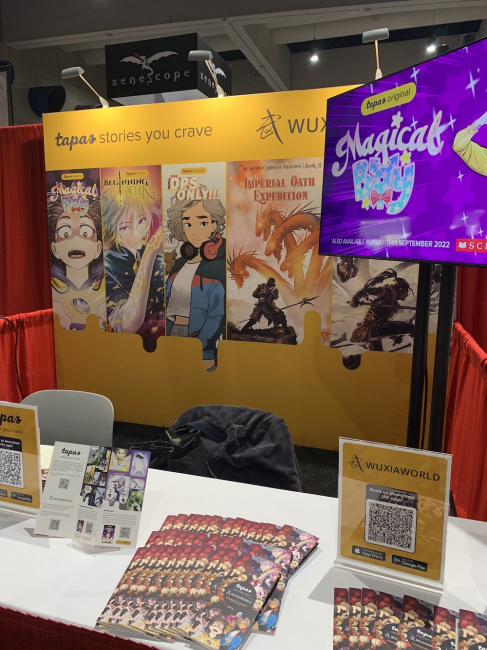 Tapas Media has laid off about 30% of its staff, according to a report at
The Beat
. The staff reductions, which have been rolling out over the past few weeks, come as parent company Kakao, which acquired Tapas and the prose platform Radish last year, appears to be consolidating the companies (see "
Tapas Merges with Prose Platform
"), along with the fantasy fiction platform Wuxiaworld.
According to The Beat, Tapas founder and CEO Chang Kim will remain in place, but the CFO, CCO, and director of publicity have all been laid off. At least some of the terminated employees are editorial staff.
The layoffs come at a time when Korean-owned webtoon platforms seemed to be having a moment in the sun. Tapas made its San Diego Comic-Con debut last weekend, and Lore Olympus, which runs on Webtoon, won the Eisner Award for Best Digital comic (see "Eisner Awards 2022"). The New York Times ran a prominent story on webtoons on July 23. The manhwa Solo Leveling, which first ran on Tapas, has been a best-seller for print publisher Yen Press, and Lore Olympus has also done very well for Del Rey; both series were among ICv2's top franchises for spring 2022 (see "Top Author Graphic Novel Franchises – Spring 2022").
In addition to the creator-owned content that runs on its platform, Tapas has a division called Studio Tapas that develops and publishes webtoons and web novels that are wholly owned by the company. They recently struck a print publication deal with Andrews McMeel (see "Tapas Media Teams Up with Andrews McMeel") and signed on with Creative Artists Agency (CAA) to sell those properties for development in other media (see "Tapas Media Signs with Creative Artists Agency"). It remains to be seen how this division will be affected by the layoffs.
Tapas also went on a hiring binge just about a year ago, bringing in a number of former DC execs (see "Chris Robinson to Tapas"), although one of those new staff, EIC Jamie Rich, has already decamped for IDW (see "People on the Move: IDW Hires Three").
ICv2 e-mailed the Tapas publicist for comment but had not received a reply as of this writing.
Update: ICv2 was able to confirm the Beat's report via an independent source.