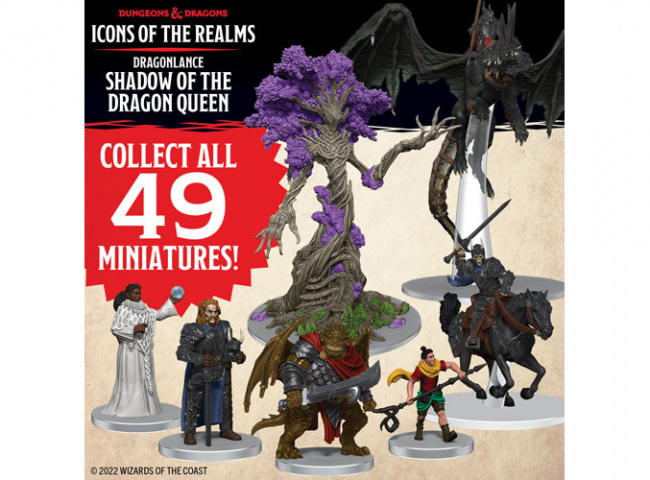 Randomly packed miniatures from the
Dragonlance
setting will be featured in the 25th
D&D Icons of the Realms
booster pack set, coming from WizKids in March.
There will be a total of 49 different pre-painted miniatures in the Dragonlance booster set, drawn from the lore surrounding the Dragonlance fantasy game setting. The boosters will be available in two formats, standard Booster and Super Booster packs.
Booster packs will come with either one large figure and three medium or small figures or four medium or small figures. MSRP is $19.99.
Super Booster packs include two huge miniatures with and MSRP of $49.99.
A seven-count Booster Brick will also be offered, which has six standard Boosters and one Super Booster with an MSRP of $163.93.
The figures in this set are designed to complement the Shadow of the Dragon Queen storyline coming later this year from Wizards of the Coast (see "'D&D Dragonlance: Shadow of the Dragon Queen' Product Line Revealed"). More villains from the setting will be available in additional Dragonlance packs coming in March and April (see "Red Dragon, Warband Sets Advance on 'D&D Icons'").
WizKids is also launching a new more-inclusive line of miniatures called Voices of the Realms (see "WizKids Launches 'D&D Voices of the Realms' Mini Line").