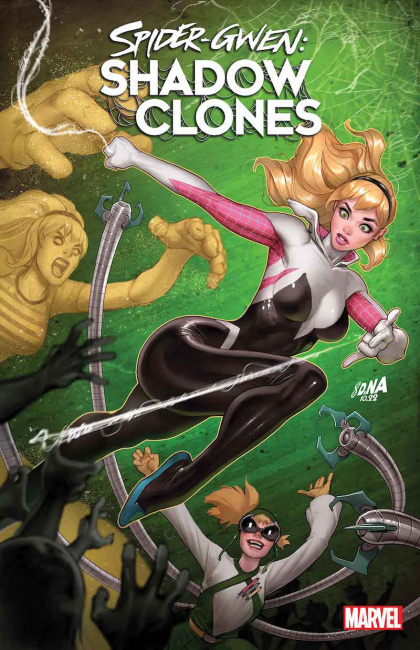 Gwen Stacy of Earth-65 will take on an eerily familiar set of new enemies in the five-issue limited series
Spider-Gwen: Shadow Clones,
by writer Emily Kim and artist Kei Zama, launching on March 1, 2023. The first issue will have a cover by David Land.
Earlier this year, in Tim Seeley and Jodi Nishijima's Spider-Gwen: Gwenverse (see "Preview: 'Spider-Gwen: Gwenverse' # 1 'Homage' Variant Covers by Greg Land"), Gwen traveled through time and encountered different versions of herself based on other Marvel superheroes. In Shadow Clones, someone is creating clones of Gwen that are based on Spider-Man villains, including Doc Ock, Sandman, and Vulture. Peach Momoko, who designed the Gwen-based characters in Gwenverse, is back as the character designer for the Gwen clones in Shadow Clones. Also returning is Greg Land, who will do a second set of homage variant covers for the new series.