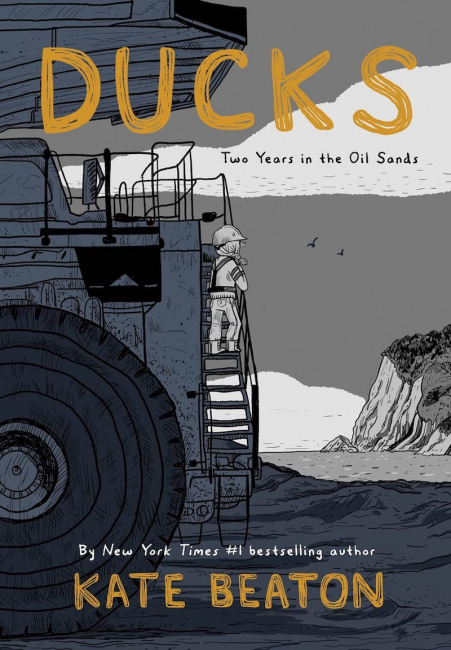 In what has become an annual event, the American Library Association's Graphic Novels & Comics Round Table has released its 2022 Best Graphic Novels for Adults and Best Graphic Novels for Kids lists. The lists are curated by a committee of library professionals and students, and they cover graphic novels published in the second half of 2021 and all of 2022. The lists include over 100 selections, but the committee also chooses a top ten. Here they are:
2022 Top Ten Graphic Novels for Adults
Days of Sand, by Aimee de Jongh (SelfMadeHero)
Down to the Bone: A Leukemia Story, by Catherine Piolo (Graphic Mundi)
Ducks: Two Years in the Oil Sands, by Kate Beaton (Drawn and Quarterly)
Frieren: Beyond Journey's End, Vol. 1, written by Kanehito Yamada, art by Tsukasa Abe (VIZ Media)
Hakim's Odyssey, Books 1-3, written by Fabien Toulme and Eric Olmer (Book 3), art by Fabien Toulme (Graphic Mundi)
The High Desert: Black. Punk. Nowhere, by James Spooner (Mariner Books)
Lore Olympus, Vols. 1-2, by Rachel Smythe (Del Rey)
The Many Deaths of Laila Starr, written by Ram V, art by Filipe Andrade (BOOM! Studios)
The Night Eaters: She Eats the Night, written by Marjorie Liu, art by Sana Takeda (Abrams ComicArts)
What Is Home, Mum? by Sabba Khan (Street Noise Books)
2022 Top Ten Graphic Novels for Children
The Aquanaut: A Graphic Novel, by Dan Santat (Graphix)
Borders, written by Thomas King, art by Natasha Donovan (Little, Brown Books for Young Readers)
The Flamingo: A Graphic Novel Chapter Book, by Guojing (Random House Studio)
Frizzy, written by Claribel A. Ortega, art by Rose Bousamra (First Second)
Invisible, written by Christina Diaz Gonzalez, art by Gabriela Epstein (Graphix)
Isla to Island, by Alexis Castellanos (Atheneum Books for Young Readers)
Little Monarchs, by Jonathan Case (Margaret Ferguson Books)
Saving Sorya: Chang and the Sun Bear, written by Trang Nguyen, art by Jeet Zdung (Dial Books)
Swim Team, by Johnnie Christmas (HarperAlley)
Yummy: A History of Desserts, by Victoria Grace Elliott (Random House Graphic)
The full lists of the Best Graphic Novels for Adults and Best Graphic Novels for Children are available on the ALA Graphic Novels & Comics Round Table website.
ALA's Young Adult Library Services Association (YALSA) recently released its Great Graphic Novels for Teens list as well (see "YALSA Top Ten").