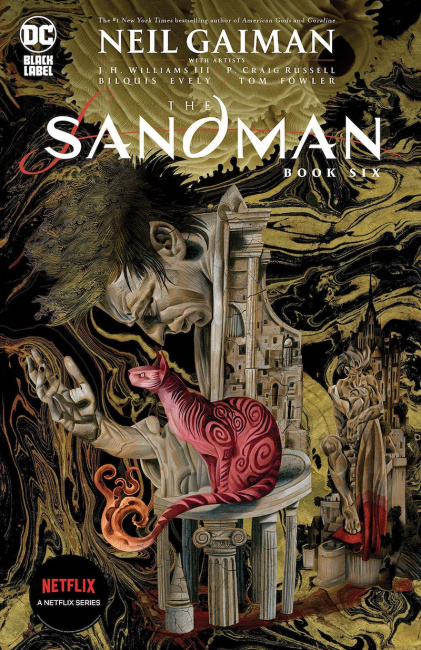 DC will conclude its series of oversized collections of
The Sandman
with
The Sandman: Book Six,
which will include
The Sandman: Overture,
the Hugo Award-winning prequel by Neil Gaiman and J.H. Williams III;
The Sandman: Dream Hunters,
adapted from Gaiman's prose novel with art by P. Craig Russell; and other stories from the Sandman universe, plotted by Gaiman and written by Simon Spurrier, Kat Howard, Nalo Hopkinson, and Dan Watters with art by Bilquis Evely, Tom Fowler, and others. The cover is by Dave McKean. The 360-page paperback will go on sale on August 1, 2023, with an MSRP of $34.99.
When DC originally announced this softcover series, it was supposed to comprise four volumes, collecting the entire 75-issue run of the original Sandman comics plus some extras (see "DC to Release Jumbo Softcover Collections of 'The Sandman'"). Since then they have added a fifth volume (see "Get More Sandman with The Sandman Book Five"), which, like Book Six, includes spinoff stories by Gaiman and others. Sales of the volumes got a boost from the Netflix adaptation, which has been renewed for a second season (see "'The Sandman' Renewed").
DC also recently announced a six-volume hardcover set of The Sandman that comes with a book stand shaped like the helm of Morpheus (see "Sandman 'Morpheus Helm' Box Set Coming in November").