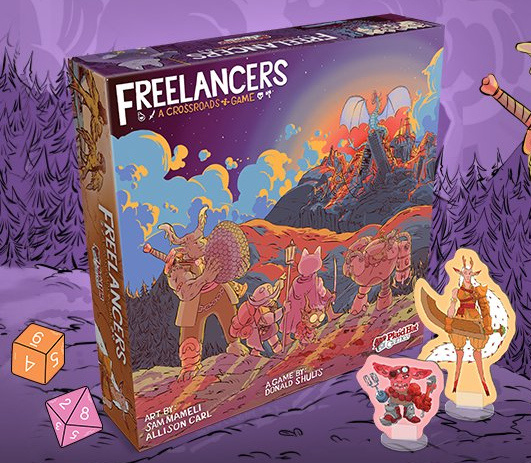 Plaid Hat Games will launch
Freelancers
, a new campaign game in its Crossroads line, at Gen Con in August, the company announced. The game is a follow-up to pirate campaign game Forgotten Waters, which Plaid Hat released in 2020 (see "
'Forgotten Waters'
").
Freelancers
is designed by Plaid Hat's Donald Shults, with art by Skullboy (Sam Mameli) and Allison Carl.
In F
reelancers
, players can condense a fantasy RPG campaign experience into a single night, with a companion app does the storytelling and eliminates the need for a game master. Players can create characters and travel to colorful locations while collecting titles, and become a legend, if lucky enough.
Freelancers
allows games to play through multiple stories in a world of magic, monsters, and murder.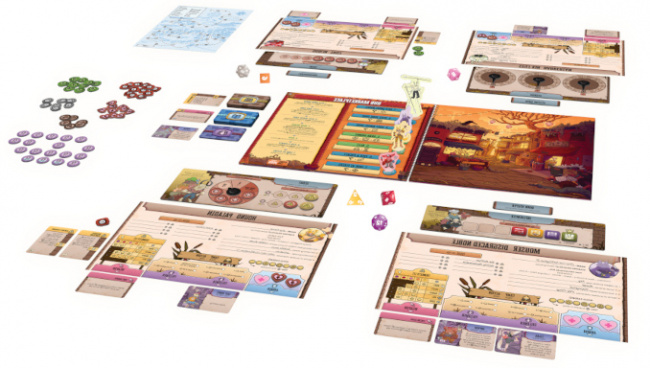 Freelancers
is for 3-7 players, ages 14 and up, and takes 90+ minutes to play. MSRP was not announced.
Plaid Hat Games launched its Crossroads line, in which the games focus on a group of survivors' ability to work together and stay alive in crisis situations while facing challenged from both the outside and inside, in 2013 with
Dead of Winter
(see "
Plaid Hat's New Line: 'Crossroads
'").
Click Gallery below for full-size pics!