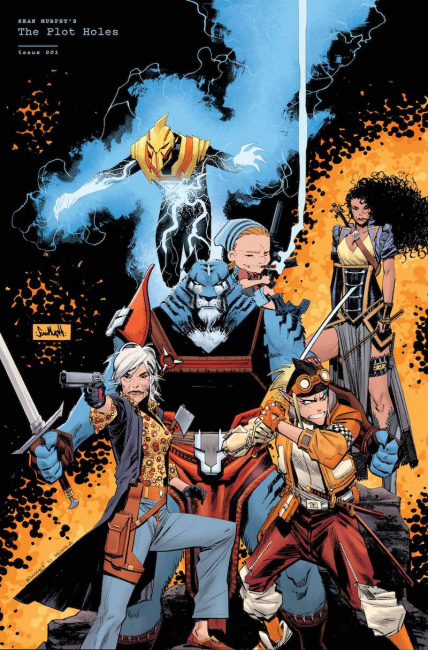 Upstart publisher Massive Publishing, which has has distributed over 800,000 units to retailers in its first six months, is launching two new imprints and a distribution deal and has announced the first title in its new flagship line: Sean Gordon Murphy's five-issue limited series
The Plot Holes.
The Plot Holes, a story about fictional characters who move into other books to alter the plots, was originally crowdfunded on Indiegogo and racked up $266,936 in pledges from 3,248 backers. Although that campaign included a retailer tier, this is the first retail release for the limited series. Massive will publish the first issue in August 2023 with covers by Walt Simonson, Klaus Janson, Dan Panosian, Jon Sommariva, and Matteo Scalera, as well as a 1:10 incentive Mike Mignola homage cover by Murphy and a video game homage cover by Massive founders Michael Calero and Trevor Richardson.
Murphy is the creator of Batman: White Knight and Batman: Curse of the White Knight (see "DC Unveils Next Chapter in Murphy's Black Label Batman Retelling") and the creator-owned Vertigo title Punk Rock Jesus; he also collaborated with Scott Snyder on The Wake, Rick Remender on Tokyo Ghost, and Grant Morrison on Joe the Barbarian.
Massive has also announced two new imprints:
Overlook will focus on horror and will be helmed by writer Cullen Bunn and Hustle & Heart Films CEO Heath Amodio. The imprint will feature work by film and TV writers as well as comics creators.
Kingwood Comics will focus on Black creators and characters, and it will kick off in September with the first retail distribution of Harriet Tubman, Demon Slayer, by David Crownson. Another crowdfunded property, Harriet Tubman is being adapted into a live-action series on Disney+. Crownson will head up the imprint, which aims to publish such well known creators as Khary Randolph and Nicholas Draper-Ivey.
Massive will also be distributing Sumerian Comics, which was known as Behemoth Comics (see "Behemoth Announces Launch of Happy Tank Imprint") before becoming the publishing arm of Sumerian Records. That publisher is shifting its catalog toward licensed television, film, and music properties, starting with Bad Omens: Concrete Jungle #1, a series inspired by the eponymous band. Nathan Yocum and Ryan Swenson are the co-publishers.
Diamond elevated Massive to its Deluxe Tier as of the June 2023 issue of Previews.
Massive was founded in 2022 by Michael Calero, Trevor Richardson, and Kevin Roditeli, and its first imprint was Whatnot Publishing, a tie-in with the e-commerce platform (see "Live Selling Platform Launches Comic Publisher").
Click Gallery below for covers!