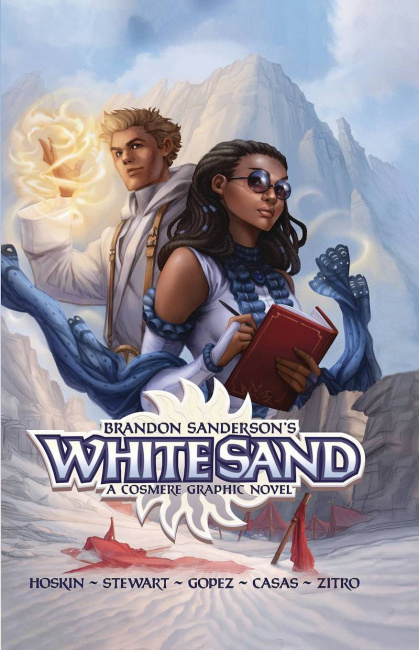 Dynamite Entertainment will publish an omnibus edition of Brandon Sanderson's
White Sand,
which was originally released as three separate volumes (see "
Dynamite to Publish a Trio of Graphic Novels by Brandon Sanderson
"). The story was adapted by Rik Hoskin and artists Julius Gopez, Fritz Casas, and Julius Ohta from an unpublished Sanderson novel and ties in with Sanderson's interconnected Cosmere novels. The first two volumes were among the best-selling graphic novels in the bookstore channel (see "
June 2016 BookScan
"), and the first volume won a 2018 Dragon Award for Best Graphic Novel. The 496-page hardcover omnibus will be released on August 2 in comic shops and August 15 in bookstores, with an MSRP of $70.00.
Sanderson partnered with Brotherwise Games for a set of miniatures and figurines that were funded by a Kickstarter that topped $4 million (see "Brandon Sanderson and Brotherwise Games"), and he also ran a Kickstarter for four "secret novels" that pulled in over $41 million in pledges.