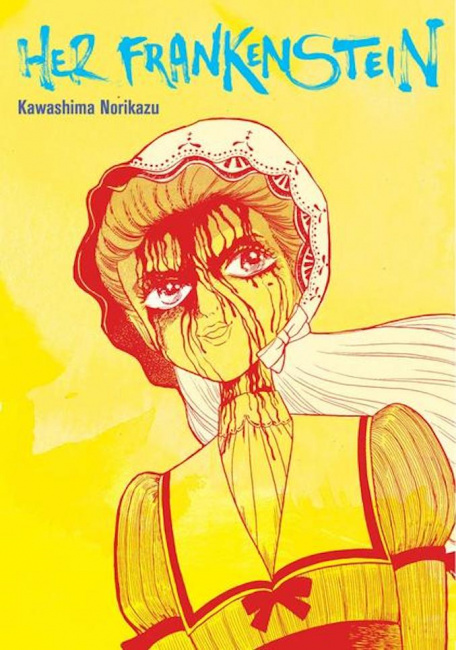 Boutique publisher Living the Line is launching a new manga imprint, Smudge, that will be curated and translated by Eisner-nominated scholar Ryan Holmberg and will focus on the pulp, horror, and mystery genres.
The first title in the new imprint is Her Frankenstein, byKawashima Norikazu, first published in 1986; according to the publisher, a few years later Norikazu burned his art and disappeared from public view.The one-volume manga is the story of a lonely, unloved young man who becomes the plaything of a movie- and violence-crazed woman; horror manga creator Junji Ito described it as the"frightening but moving story about an unfortunate individual who, lost in search of his true self, finds his own annihilation instead."The 208-page book, which will include a cover gallery and a historical essay by manga-ka Kawakatsu Tokushige, will be released in spring 2024 with an MSRP of $19.95.
"Though only getting his proper due now, Kawashima is an important figure in the history of horror manga," Holmberg said in a statement accompanying the announcement. "Considered by many to be his best work, Her Frankenstein was the swan song in a glorious era of horror graphic novels in Japan, which came to a close just as horror manga found its footing in the mainstream magazine market. Without under-appreciated pioneers like Kawashima, there would have been no Ito Junji."
Holmberg is the translator of Yamada Murasaki's Eisner-nominated manga Talk to My Back, published by Drawn & Quarterly (see "Drawn & Quarterly Spring 2022 Lineup"). Living the Line is artist and designer Sean Michael Robinson's small press, which launched in 2021 with Dave Sim's The Strange Death of Alex Raymond (see "Publication Set for Dave Sim's 'The Strange Death of Alex Raymond'").
Click on Gallery below for preview images!