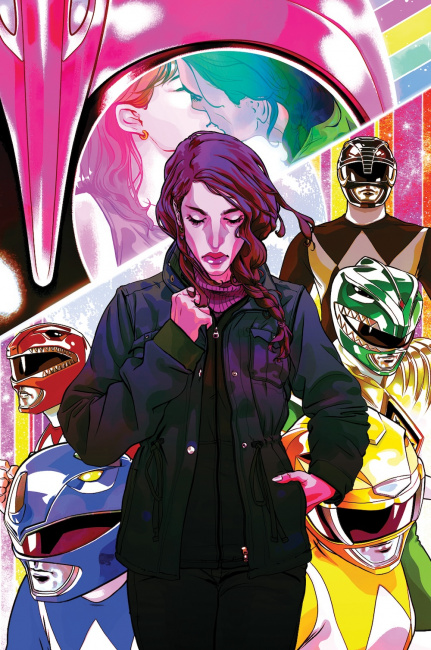 Mighty Morphin Power Rangers: The Return
has been announced by BOOM! Studios, in collaboration with Hasbro. The four-issue comic is co-written by Amy Jo Johnson, who played Kimberly Hart, the original Pink Mighty Morphin Power Ranger, and her boyfriend Matt Hotson. It is illustrated by Nico Leon (
Ms. Marvel, Star Wars: Yoda
). The A cover is by Goni Montes, with additional covers by Dan Mora,Justine Florentino, and Jenny Frison.
The Return is part of marking the Power Rangers 30th Anniversary, and it's the first time Johnson has written a comic book. The premise involves imagining an alternate future for the original team. What if they defeated Rita Repulsa and Lord Zedd, with a tragic cost, and then split up? As envisioned in this comic, they might reunite to find the missing Red Ranger decades later.
Following the lead of Power Rangers: A 30th Anniversary Comic Book Celebration, BOOM! is crowdfunding this project. That previous project was one of the top five comic projects on Kickstarter in the first half of 2023 (see "Kickstarter Comics Campaigns Are Up"), and at the time of writing, The Return has raised four times the $50,000 goal.
Mighty Morphin Power Rangers: The Return is due in stores February 7, 2024. BOOM! has been publishing Mighty Morphin Power Rangers comics since 2015 (see "New 'Mighty Morphin Power Rangers' Series").
Click Gallery below for cover images!