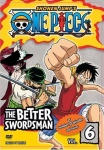 Anime News Network is reporting that 4Kids Entertainment apparently decided to give up on the One Piece anime series. An email from Roz Nowicki, Marketing Director at 4Kids was reproduced on the Toonzone Forum in which Ms. Nowicki replied to a fan's inquiry by stating, 'I am sorry to say that at this time there are no additional episodes (of One Piece) being adapted by 4Kids Entertainment.' According to the Anime News Network, 4Kids has adapted/dubbed 104 episodes of the series of which 78 have been broadcast here in the U.S.
In Japan One Piece is arguably one of the top, if not the most popular, of all anime and manga properties. Well over 100 million volumes of Eichiro Oda's One Piece manga have been sold in Japan (Volume #24 was the single best-selling book of all time in Japan prior to the release of Harry Potter and the Half-Blood Prince), and the anime series, which has now reached 288 episodes, remains very popular. However, the rollicking pirate saga of the elastic Captain Monkey D. Luffy has never come close to achieving a similar level of popularity here in the States (although the One Piece manga from Viz Media has been a very solid 'Top 15' performer).
Fans blame a lack of promotion and merchandising as well as the changes 4Kids felt compelled to make to render the anime series suitable for Saturday morning viewing. Reaction to the 4Kids' announcement from the fan community has been muted. While most, if not all, are relieved that 4Kids, which doesn't release uncut subtitled versions of its series on DVD, will no longer being adapting One Piece, their joy is tempered by the fact that 4Kids' One Piece license apparently lasts until 2009 and doubts that other American anime companies will want to take on such a long series particularly since it has never scored well in U.S. TV ratings.
Viz Media, which releases the 4Kids One Piece dubs on DVD here in the States and which is partially owned by Shueisha, the publisher of Oda's One Piece manga in Japan, would appear to be the most likely candidate to take over the U.S. rights to the anime series, though the North American fate of the property is likely to remain in doubt for some time.